One Tree Hill Review: Dan Scott Started The Fire
by Dan Forcella at .
We came into "The Killing Moon" wondering what had happened to Nathan Scott. By the end of the hour, though, I had no better explanation of who took him, or for what reason, than when we started. Did you?
Dan did set his diner on fire on purpose. We know that. The question remains whether or not we should believe him when he told Haley that all of his intentions were good. If so, he's just an old man that is trying to get closer to his family, and I can respect that. If he's lying, that would be a horrific character arc for Dan Scott.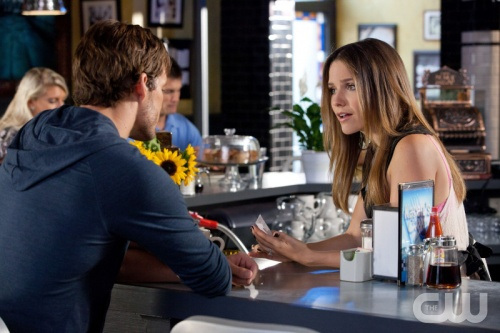 Apparently Haley thinks he's lying, as she ended the episode with a call to 911. Not enough credit is given to Bethany Joy for her wonderful work on One Tree Hill, so I will take this time to shower her with praise for the fantastic job she did of portraying the worried wife.

Haley started out in a bit of denial, then began to worry, then seriously freaked out. At each point, Galeotti made the necessary changes in her demeanor, and had me believing every step of the way that she was seriously worried about her husband.

Was that final phone call really from a woman that knew for sure the man she was just talking to kidnapped her husband? I'm still not sure, and I don't think Haley was either. She was certainly scared, as I would be too if a murderer grabbed me by the arms and stared into my eyes - but I don't think she is certain Dan had something to do with it. Even if she's 50% sure, however, that's worth calling the cops, so good job Mrs. Scott.

Elsewhere in Tree Hill, a number of people were coming through in the clutch. Quinn took care of Jamie and Lydia while Haley was handling the Nathan business; Chris Keller helped Haley as well, explaining how great she and Nathan are to the cop; and Chase was there for Chuck once again in his time of need.

Chris Keller helping Haley was nice and all - and sort of surprising - but it was all for naught after watching him let down the boy he affectionately calls "Kid Keller." I don't care how many cute nicknames you come up with, or how many times you charmingly refer to yourself in the third person, if you're not there for Chuck Scolnik, you and me will have a problem.

For a kid that has a ton of sass himself, Chuck is extremely difficult not to love. Therefore, when Chris Keller treated him like dirt, it was easy for people like me and Chase to get angry.

Although I didn't have the ability to be there for Chuckles, Chase did, and of course... he acted on it. It was great watching them shoot hoops together and hearing Chuck tell Chase he didn't think he even had to ask him to come meet his dad, but it was truly heartbreaking watching Chuck's deadbeat dad toss Chase to the side like he's Chris Keller.

While I wish I could put Chase and Chuck in the Relationship Rankings, because they would be number one in my book, this thing is meant for couples. Guess who is back in the one spot!

1. Brulian
Julian and Brooke return to the top, maybe for the latter's dismantling of Tree Hill Cafe alone. Thanks to Tara's note on Julian's car about frying babies, Brooke went nutso - tearing her rival's restaurant limb from limb - and it was awesome! It was also the second "flash forward" scene from the premiere.

The third "flash" scene was Julian getting the absolute snot beat out of him after picking a fight with a big ole dude at the bar. Why did that happen? Because of the note Tara left him on his car. That girl really likes to stir up trouble, doesn't she?

As angry as I am that Julian continues to be down in the dumps, it's worth it if said state comes with pep talks from Brooke about trusting him as a father.

2. Naley
The absence of Nathan drops this couple down a spot, but Haley's loving fight to find him keeps the couple at number-two.

3. Millimouth
With Mouth off eating healthy, and Millie simply helping to make a coffee drink or two, these two stay neutral for the time being.

4. Chrara
They are doomed, and after what Chris Keller did to my man Chuck, how could they be any higher? Tara is treating Chris Keller like dirt, sending cockroach infested plants to Karen's Cafe, and writing awful notes to Julian. She is one terrible human being, and I love every minute of it.

5. Clinn
As if you expected to see any other couple in the bottom spot! Hopefully little Logan can help Clay turn things around, because if I have to listen to him wax on about not wanting to get better, I am going to throw something at the television. Just take the advice and get fixed. It might take time. It might take some work. You have an issue and let's get to the bottom of it.

Quinn, on the other hand, was at her best this week because she was with Jamie. Let's hope she babysits for the rest of the season.

-------------------------

About the "flash forward" scenes: now that we've had them in two straight episodes, I have come to the conclusion that they work. The first five minutes was a great way to whet our appetites, and now after seeing them come to us in real time two weeks in a row, it's only making things more interesting.

It was a great idea, and it has been some great execution so far.

I continue to enjoy the final season of One Tree Hill. What did you all think of "The Killing Moon?" Do you think Dan has something to do with Nathan's disappearance? Will Clay ever get better? How is Julian going to get out of this funk? And who tops your One Tree Hill Relationship Rankings this week?

Dan Forcella is a TV Fanatic Staff Writer. Follow him on Twitter.

Tags: One Tree Hill, Reviews
From Around the Web