HankMed hit the stage on "Bottom's Up," as the team treated a troop of Thespians in town to perform Shakespeare's A Midsummer Night's Dream.
Evan made a return to the theater and Paige made a splash with her set designs, making for a once in a lifetime opportunity; while Divya faced Raj for the first time since he dropped the restitution bombshell, opting to involve Van Dyke with surprising results.
Elsewhere, Jack's condition continued to deteriorate. He slipped further into denial of the seriousness of Lupus.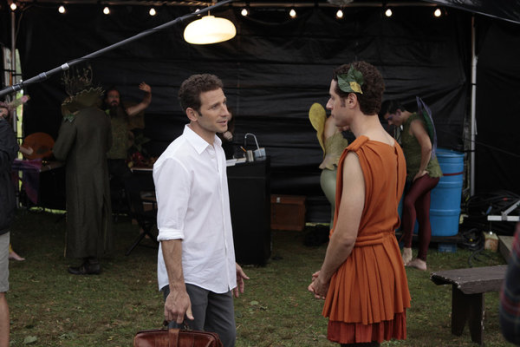 I really enjoyed the pace of this week's episode, especially with the inclusion of a Shakespeare production. It was like acting within acting, and that certainly made for a fun installment.

Evan clearly does have a stage presence, doesn't he? I approve of him following the production to Stratford-Upon-Avon so he can stay with Paige.

It was no surprise he had reservations about it. He just loves Paige so much it's hard to think about not being with her all the time. But what an opportunity for her! She definitely deserved to have her moment. Besides, what is Skype for if not keeping in touch over long distances? These two love birds will be fine.

Speaking of love birds: What did you think of Raj's new beau? Do you buy that he's actually in love with her? In no way am I trying to say I would like to see him and Divya get back together, but casting-wise, I felt like the critic was a little old for Raj.

Each week I get more and more saddened by Jack's story line. He just keeps getting worse and the consequences more heart-wrenching. If he would just get some treatment maybe the progression would slow.

What surprises me is that he chose to bring Jill out on the water with him as he spiraled further into denial. He clearly admires her outlook on life, but I struggle to see where he thinks that relationship is going, or does he just value her as a friend?

Overall it was another solid episode of Royal Pains. Have you ever appeared in a Shakespeare production? Better yet, were you also featured in Midsummer Night's Dream?

C. Charles is a TV Fanatic Staff Writer. Follow her on Twitter.

Tags: Royal Pains, Reviews