Tyler Blackburn is "very, very excited" and who could blame him? The actor was recently promoted to series regular on Pretty Little Liars and will be at the forefront of tonight's new episode, "CTRL:A."
Targeted by A, the actor told reporters on a conference call late last week that he'll actually prove something to the mysterious stalker during the installment.
"I think A definitely gives people these hurdles, and if they prove themselves and successfully jump over them... A doesn't necessarily back off but gives a slight amount of breathing room," Blackburn said. "That's sort of what happens with Caleb. He's put in some hot water, but he does prevail in some ways... for the rest of the season after that, he's focusing again on his relationship with Hanna, as opposed to all of this craziness."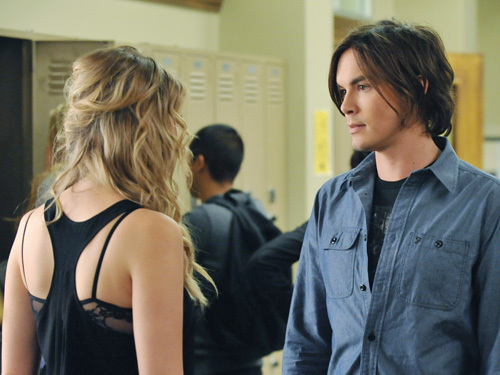 Blackburn added that Caleb getting dragged into the A-based mess tonight will bring him and Hanna "closer" because their roles are reversed a bit; Hanna has to figure out how to best help her man extricate himself from trouble.

What kind of trouble, exactly?

"A sort of sets it up to where Garrett and Officer Wilden are able to basically charge - not charge but assume - that Caleb has done some hacking illegally," the star said. "So you wonder is Caleb going to get in trouble with the law again, and the law happens to be Garrett. I think Garrett also has some ulterior motives as well, so they're definitely out for blood. But Caleb is a tough dude, you know? He has a lot of street smarts, and he can keep up pretty well."

As for the identity of A, let's get it out in the open: yes, Blackburn is privy to that information. No, he won't say a word about it. But he will give a little tease regarding a shift in the PLL dynamic once viewers find out the truth on the March season finale.

"Once A is revealed, there's another mystery kind of starts from that. So they definitely have kept the momentum going, you're not going to be disappointed, and there's just going to be more and more. I think this is probably one of the biggest black holes that anybody could fall into because there's just so many layers to it."

Matt Richenthal is the Editor in Chief of TV Fanatic. Follow him on Twitter and on Google+.

Tags: Pretty Little Liars, Interviews, Tyler Blackburn