Army Wives Season Premiere Review: Fort Marshall Is Saved!
by Carissa Pavlica at .
"Winds of War" was one of those episodes that you expect to get moved or delayed when it airs so soon after a real life natural event occurs. With the horrible tornadoes and the death they caused this past week, I'm sure there were some families who found the season six premiere hit a little close to home. My heart goes out to those who were burdened with the real life loss brought about by frightening weather.
Otherwise, it was fantastic to have Army Wives families back. They're so close they feel like real friends and I've missed them. Followed by "Perchance to Dream," we had a full night to get the storyline back on track and find out the fate of Fort Marshall via some emotional scenes in what amounted to a great season premiere.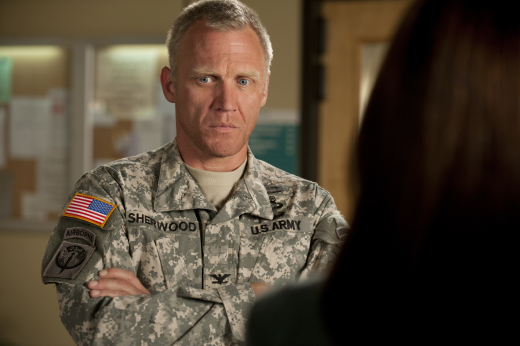 The Burtons
David's adoption was finalized and they gave him a gift. An engraved pen. Really? I understand the intent was to memorialize the moment with his new name, but a pen? He's a kid, hoping to try out for the football team for the first time and he got... a pen. I just found it a bit of an adult gift for a child. They like to read together, a favorite book engraved would have been a better choice.

I forgot about Joan's promotion and she did a great job taking control of hurricane duty. That woman is fearless and full of heart. She never even took a break to sleep. I always have to stop and remind myself that there are loyal family women in the armed forces who are just as dedicated as Joan. I hope they all have husbands like Roland.

The Holdens
When Michael was assigned to desk duty in Washington, he decided to retire. I'm sure many of us have thought about how they would keep these friendships alive and there were no shortage of surprises used to make that happen. Fort Hope, where it seemed most of the 23rd was to be reassigned, took a lot of damage during the hurricane. What better way to keep Michael in the Army and everyone together?

I was a little disappointed that Pamela didn't have the faith in Michael and Claudia Joy to ask them to share their home with them during their difficult time. If Claudia Joy knew Pamela had spent the night in a shelter, she would have felt so bad not to have been asked. She and Michael have a large, empty home and her dear friend is suffering alone. Would Michael's rank really be such a deterrent that Pamela wouldn't ask for their help? I know they aren't best friends, but when times are difficult, putting pride aside is all right, isn't it?

The bad news was that after Michael promised it was his turn to follow Claudia Joy, he didn't even consult her when he accepted the new command. I can't say I would have taken it as well as Claudia Joy did because she took it like a trooper. Maybe part of it was knowing she would stay with her friends, making it easier to swallow his making a decision without out her input.

The LeBlancs
Roxy was in major denial about the move. She pretty much refused to believe they were leaving. Her stubbornness was almost the death of her and Finn. When their car rolled in the storm in an unknown location, somehow Pamela used her super powers of friendship to locate them and get them out the car before it exploded.

Witnessing Roxy ride one of the kids bicycles to the Hump Bar was one of the funniest things I've ever seen. She didn't even bother to take off the bling. In hindsight, it's a darn good thing she didn't sell bar. For Marshall will house more soldiers than ever and the opportunity for her business to thrive should be incredible. Maybe she and Trevor can finally move into a home more suitable for the size of their family. They have fought so hard to keep their heads above water, it would be nice to see them prosper.

The Sherwoods
It's hard to think about how hard it would be for the Sherwoods to leave Fort Marshall and therefore Jeremy behind. Meanwhile, they're celebrating Molly's first birthday. So much had happened in the last year. That really came to light when Denise ended up in a coma after being injured during the hurricane. At first I thought I was seeing things. She was dreaming that Jeremy and Tanya were married, and expecting their first child and Molly was a young lady. At least being in a coma might bring her some peace and closure to her unfinished life with her son.

It was bittersweet, knowing she was living this entire life for her family that would never come true. It seems the disappointments never stop for Denise. It actually brought tears to my eyes, seeing her hold her granddaughter for the first time, knowing she would wake up to the same loss she had already suffered. She was living an entire life during her coma, even seeing herself aging in the process.

By the time her dream of Thanksgiving came, I was full on crying. As Roland was suggesting moving Denise, I knew she was just living her life and once she was satisfied, she would awaken, long before the need to transfer. She was hovering between life and death and just needed to remember the life ahead to rejoin it.

Yes, Army Wives is back. In my eyes, second only to Parenthood in its ability to make me feel what the characters are feeling and imagine I am living their lives with them. The one question we still have dangling above our heads is what will happen with the Morans. With Chase in California, will Pamela still be leaving, or will the new wave of divisions working out of Fort Marshall bring him home? We have a full season ahead and I can't wait to see what it brings.

Carissa Pavlica is a staff writer for TV Fanatic. Follow her on Twitter and on Google+.

Tags: Army Wives, Reviews
From Around the Web