One Tree Hill Review: If You're Happy And You Know It
by Dan Forcella at .
Well, that was certainly a change of pace. After an episode that went into all out action mode with Dan yielding a shotgun, and one that tugged on our heart strings like they were trying to defeat John Cena in a game of tug o' war as Dan sadly left this world, "Anyone Who Had A Heart" was a much less strenuous hour.
The penultimate episode of One Tree Hill was just plain happy. All of the characters were happy, I assume it made all of the viewers happy and the fact that Sophia Bush was able to direct one of the final episodes of the series - one that focused a lot on how important her Brooke Davis was to the show - definitely made me happy.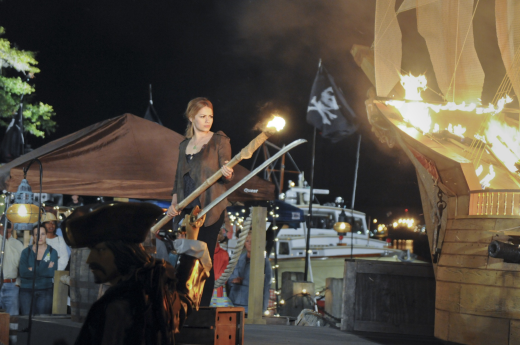 Maybe nobody was happier than Julian Baker, who was inspired to turn Lucas's "Ravens" book into a television series. Not only did the studio buy his idea, thanks to Brooke's high school diary and her hot tub idea, but Julian even got to put himself into the story!

I love Julian, but seriously? You're going take this story written by Lucas, and then throw yourself into Tree Hill High School and steal a major event from the author himself? Not cool, bro.

The way it seems now, I don't think I would watch the show he's creating. It's not One Tree Hill anymore. By creating this new Julian high school character, he's taking crucial events away from Lucas (game-winning shot) and Nathan (sex tape), and inevitably destroying the basis of the first four seasons of the show: the estranged brothers.

Even though he was making out like a bandit with this TV show deal, Julian wasn't all smiles, specifically when Ted Davis was messing with his beloved wife. You had to love seeing him go to bat for Brooke and attempting to take down Ted for his terrible parenting.

In the end, though, Ted somehow came around. Maybe Victoria, Brooke, and the rest finally got to him - or maybe it's just another phase for Ted - but he seems to be ready to be a family again. We may never see how long the three of them running Baker Man lasts, but my guess would be no more than a couple of years.

Clay and Quinn might have given dear Julian a run for his money in the happiness department, as they spent the weekend with Logan at the house. I would also be as happy as a lark if I got to spend all that time with the King of Cute.

They finally did it. It took them a long time to pull it off, and I assume it only came about because of the introduction of the Logan character, but they were able to get me to care about Clay and Quinn. When Clay asked her to marry him in that tent, I felt something. Yes, me, the one who did nothing but trash on them for the past two years. Yup, I was happy for them, and Logan, for becoming a family. It didn't hurt that Logan raised his hand to give up his "power ring" for the occasion. What a sweetie!

It was also great to see Mouth, Millie and Skills figure out the best way to get them all on the air. Watching Kylie freeze up on screen was pretty funny, and Skills pretending to do the same his first time on air was downright hilarious.

The appearances by Junk and Fergie were also welcomed, as was the fact that Karen offered to sell Chase Tric! It's too bad Nathan didn't get to enjoy the happiness and Haley had to do all of the Burning Boat stuff by herself.

I hope this wasn't just the calm before the storm, because I don't think I could take any earth shattering events in the series finale of One Tree Hill next week.

What did you all think of "Anyone Who Had a Heart?" Was it nice to see all of our favorite characters happy for once? Or did not enough happen for you? What about how this whole thing is ending with Julian's show? Is it too much like "The Creek," which was actually referenced on screen?  And how do you feel about Julian's new character stealing events from Lucas and Nathan?

Finally, how are you going to fill the days after One Tree Hill ends for good next week?

Dan Forcella is a TV Fanatic Staff Writer. Follow him on Twitter.

Tags: One Tree Hill, Reviews
From Around the Web