The tension between Denise and Claudia Joy took a backseat in "Viral," while Roland and Joan struggled to come to terms with the base finding out about David's HIV. There aren't many topics that bring our main characters together any longer, but this one one that did the trick.
It still amazes me that the angry mob mentality follows around a disease that hasn't been passed through casual contact in 16 years, according to the doctor on Army Wives. It was so sad seeing David feel the pain of being turned on by his friends for something over which he has no control.
Charlie's introduction into the Burton's lives had a significant impact prior to this experience, but really showed her skills at dealing with people when she set out to help the Burtons' deal with the overzealous and vindicate reactions of other parents. Check out the Army Wives Quotes to see some of the great things that were said to temper the anger.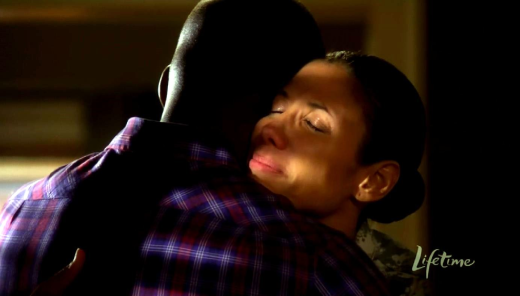 While the Burtons were dealing with their issues, Roxy was asked by Trevor to deal with one his new soldier's wife's negative reaction to Army life. If anyone understood what it was like to be an outsider in the Army, it was Roxy. With her new responsibility as an FRG leader, she was in the perfect position to butt in.

Roxy met her match in Gloria Cruz. She had the same attitude that Roxy once possessed and was full of fire. Imagine Gloria's surprise when she walked into the Hump Bar, after blowing off Roxy, to find she owned it.

Roxy's character growth was again very prominent in this episode and I was very happy to see she hadn't lost her "Roxy-ness" while working at the Hump Bar. She still had the opportunity to wear tank tops showing mismatched colored bra straps. Amazingly, despite her funky attire, she was still able to give mature advice to Gloria. Clothes may assist others to accept the woman, but they certainly don't make her.

I don't know if the Cruzs are going to stick around, but Army Wives is missing the voice of the enlisted Army wife, so it would be a good move on the show's part to keep her around. Plus, I could see a friendship between she and Roxy if they gave it a chance. Roxy could take someone similar to herself under her wing like the other wives did for her.

Finally, Claudia Joy and Denise seemed to come to some sort of understanding in their friendship with a promise from Claudia Joy that she would start fresh with Jackie when she got back from Washington, DC. But then Claudia Joy collapsed. It looks like more life or death medical drama is on the way, and this time not related to her diabetes. Will she get the chance for that fresh start and to truly mend her friendship with Denise? It's so early in the season anything could happen.

A lot of you have mentioned this is Army Wives final season. I hadn't heard that and haven't been able to confirm it, but if it's true all stories are up for grabs, and I never like the thought of that.

Carissa Pavlica is the managing editor and staff writer for TV Fanatic. Follow her on Twitter and on Google+.

Tags: Army Wives, Reviews