Justified Season Finale Review: It Wasn't Me, It Was The Two-Armed Man
by Dan Forcella at .
Justified certainly knows how to pull off a good tragedy. Between the downward spiral and eventual horrific death of Robert Quarles, and the somewhat sad quasi father-son triangle that led to Arlo blatantly choosing Boyd over Raylan, "Slaughterhouse" was a fitting end to the third season of Justified.
Robert Quarles should go down as one of the most interesting and entertaining villains in TV history, and Neal McDonough should receive any and all accolades that are up for grabs this year. His portrayal of the Detroit mobster was riveting all season long, and that was no different in the season finale.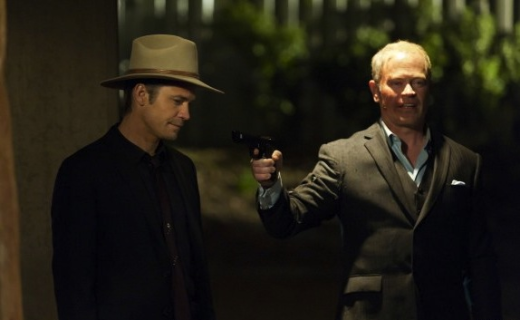 Quarles almost looked content seconds before his arm was chopped off.

The last we had seen Bobby, we thought he had killed Trooper Tom, but we later found out that wasn't true at all. After fleeing the scene at Boyd's bar, Quarles just wanted to get out of Kentucky alive, and make it home to Detroit without a target on his back.

That was going to take $500,000 for Theo Tonin, and I doubt that would have even stopped the boss from shooting Quarles when he made it back up north.

McDonough was fantastic throughout Bobby's adventure in attaining the money. First in his hopped up twitchy moments with the Christian family in the van, and then with how his cool customer attitude when seeing Raylan made me die laughing, this was a nice final run for the character. I mean the subtlety in which Quarles asked for Raylan's gun and phone after being turned down ibuprofen was pure genius.

All of that was before we even were treated to the beauty of scene in which the episode got its title. Quarles sure went out in style, moving so quickly from the pure joy of witnessing Limehouse's real life piggy bank, to the absolute desperation in reaching out for his arm that was chopped off by a butcher knife. The contrast was superb, and Raylan's slight step backwards with Bobby's then removed gun toting arm was even better.

Quarles did not leave this Earth without shaking things up once more, though, as he revealed to Raylan that it was actually Arlo who shot Trooper Tom outside of Boyd's bar. That was the fact that led to a very interesting end of the season for both of the Givens, as well as each and every one of the Crowders.

Arlo shot Trooper Tom. He did it to protect Boyd. That makes sense, because he's part of the crew. No, this is bigger than that. Arlo thinks of Boyd as family, really as his own son, something he hasn't felt about Raylan in a long time. What does a father do for his son? When it really comes down to it, old dad will take the bullet for his kid, and that's what Arlo did for Boyd in taking the fall for Devil's murder.

He did it to protect Boyd. It wasn't in the literal sense, as Arlo was claiming, but he definitely was protecting Boyd. In a way, this was a truly honorable and heart-warming end to Arlo Givens' arc on Justified.

He may not have had the feelings towards Raylan that he should have, but he found family in the Crowders. It was nice to see family truly being there for family, no matter how sick and twisted the details were.

Honestly I don't think Raylan cared that his father took the fall for Boyd like that. Like the Marshal said, he's a criminal. However, he may not admit it, but it was obvious that he felt some serious emotions upon finding out that Arlo shot at Trooper Tom just thinking that it was a man in a hat.

To know that your own father attempted to shoot you dead in order to protect another boy, a criminal, has to wear on you. Raylan's immediate trip to Winona's sister's place proved that. When that baby comes out, I have no doubt that Raylan will love him or her more than anything on this Earth. Even with that as satisfaction, this was still a deeply sad conclusion to Raylan's story this season. Do you think things will ever turn around for this man?

Well Boyd gets off scot-free, which makes Ava a happy girl, and cousin Johnny probably a bit ticked. Wow! Who saw that coming? Johnny has been out to get Boyd for a while now, and he does it by spilling the location of Devil's body to Limehouse?

Johnny Crowder showed some stones, but it might come back to haunt him now that Boyd isn't going anywhere. Will Boyd find out and put his cousin in the ground? Or maybe Johnny can build up the right infrastructure around him to take Boyd on in season four! Nah, I doubt it. I give him six episodes to live.

It was an exciting yet emotional end to Justified's third season. "Slaughterhouse" definitely wrapped up some story arcs effectively, while allowing others to grow into new plots for next season.

We said goodbye to Robert Quarles, and probably Arlo Givens, but Ellstin Limehouse is still out and about, and Boyd Crowder has a new lease on life.

What did you think of the Justified season three finale? Did the season measure up to last year's run? How will you remember Robert Quarles? Can you forgive Arlo Givens?

And what on Earth is the series going to do next year to match what it has done so far?

Dan Forcella is a TV Fanatic Staff Writer. Follow him on Twitter.

Tags: Justified, Reviews
From Around the Web