Provocative and daring yet full of heart, Lifetime's new series The Client List starring Jennifer Love Hewitt walked a line few shows could navigate. By the end of the premiere, "The Rub of Sugarland" had me desiring more.
Hewitt plays Riley Parks, Texas wife and mother of two. Riley's life was far from perfect.
She and her husband Kyle were both out of work, the bills piled up and job prospects were slim. The stress had taken its toll on their marriage despite the makeup sex at a family party that I thought might just culminate on the kitchen table. Thankfully, they moved the private party away from prying eyes.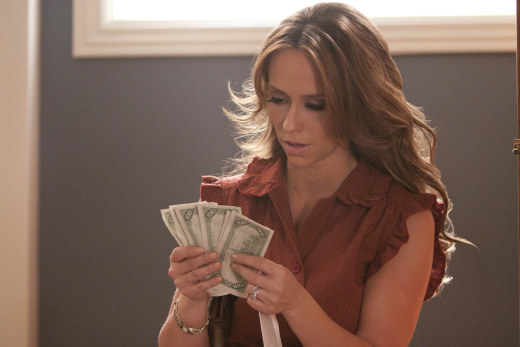 Riley had the makings of a true Southern heroine. She's as captivating as a cold glass of sweet tea on a hot day coupled with a steel core that would surprise those around her, maybe even Riley herself.
Kyle walked out leaving Riley with two kids and an unpaid mortgage. Funny how he did that right after she got her new job. Was having a wife as the breadwinner just too much of an ego blow?  Also, I would have loved to read exactly what he said in that note. Was he running off to look for work or completely bailing on his wife and kids. Either way, it's still a lousy thing to do to his family.
Of course, the surprises just kept coming for Riley.
Apparently the spa where she was hired, cheekily called The Rub, specializes in a little more than massages. She quickly found out that her new clients had a lot of extra tension in their hip area that they needed help with. Riley immediately balked at performing any extras for her clients. As she told her boss in this Client List quote...
Riley: I am married with two kids. That is not my idea of a happy ending. | permalink
What really sucked me in was that Riley's a good person. She wanted a legitimate job, then life threw some interesting challenges at her. Performing extras wasn't something she jumped at but her husband walked out, her kids just lost their daddy, the bank was coming after the house and she got desperate.

I'm sure many will judge Riley but her first instinct was to save her family. Despite her questionable methods, I couldn't fault her for that.

The show never explicitly detailed how happy these happy endings became and that's not a bad thing. I didn't need all of the dirty details to stay interested. It might even be more fun to draw your own conclusions.

And I liked that Riley continued to struggle with her decision. Her desperation to take care of her family warred with her conscience. I hope it continues to do so.

The rest of the cast was equally appealing. Riley's children, Travis and Katie were cute without being cloying as they deal with Daddy's disappearance. Cybil Shepherd, who has always been a favorite of mine, pulled off the role of Riley's mother perfectly. Lynette was straight-talking but supportive and quick to give her daughter advice even when she didn't necessarily want it, like any good mother. 

Then there was Evan, Kyle's brother who obviously has some serious feeling of longing for his gorgeous sister-in-law. Speaking of Kyle, he's not completely gone. I can't wait to find out what he has to say to Riley what she says back. That's a conversation I'd like to overhear.

The Client List did leave me with one serious question. Did you have to be gorgeous to be on the special list? Do only ugly people get regular massages?

There's certainly enough drama here to fill the first season. Will Kyle come back? Will Riley get caught and even if she isn't arrested, will her family and friends ever figure out why she's become so popular in her new profession?

Riley's a nice girl navigating desperate times and I'm rooting for her to find her own happy ending. I'll definitely be watching as she tries to find her way.

C. Orlando is a TV Fanatic Staff Writer. Follow her on Twitter.

Tags: The Client List, Reviews