The three who remain standing after tonight's American Idol will receive a hero's welcome in their hometowns. The eliminated contestant will just be going home. Bummer.
But hey, there's still the tour, right? And all the guests in theater tonight got a ticket to one of the live shows so we know at least a few people will be there.
David Cook and La Diva Latina herself will perform tonight, and we'll get the only honest criticism we're hearing all season from Jimmy.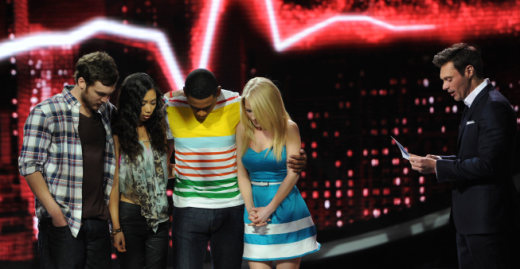 Phillip Phillips, who went first in both rounds last night, is going first tonight, too. Jimmy liked that Phillip lost the guitar and added a saxophone on "Have You Ever Seen The Rain." He thought it added to Phillip's repertoire as an artist. For "Volcano," Jimmy said "it all came together" and vowed that had he seen that performance in a different venue, he would've signed Phillip on the spot. Jimmy and I will have to agree to disagree on the first song, but we're in complete agreement on the second. That song sounded like it could've been a Phillip original.

Ryan's a tease. He sends Phillip back to the couches but not with a declaration of his safety.

Hollie Cavanagh's up next. Jimmy thought that "Faithfully" worked for her because she has a tendency for dramatics and that's a dramatic song. However, unlike Randy, Jimmy thinks she's peaking in the wrong direction and I'm trying to figure out how one can "peak" downward. Jimmy admits he didn't push anyone one way or another on their second round song picks and says Hollie didn't have the experience or the understanding to perform "I Can't Make You Love Me" and hit the "opera button" in the chorus and then "crashed and burned." Yep, Jimmy. That about sums it up.

Another tease from Ryan. She's back to the couches but maybe not for long.

David Cook performs his new single "The Last Song I'll Write For You" and it reminds me that he's sorely missed from my radio. I expected him to be a bigger commercial success than he's been post-Idol. Maybe this song will help him out.

Up next is Joshua Ledet. Jimmy hated Joshua's first song choice and his arrangement of Groban's "You Raise Me Up." He's giving the same criticism many of the commenters on yesterday's review did: Joshua's doing the same thing time after time and it's letting him down. However, Jimmy loved "It's A Man's World," calling the performance "captivating." On listening back to his Round Two song, I don't love it as much as I did last night, but for the most part, I still agree with Jimmy, especially with the first song.

Still no results.

Jessica Sanchez heads to the floor. Jimmy criticized her choice of "Steal Away" AND her tendency to growl through her song. Like Joshua, Jimmy thinks Jessica has to "leave that rabbit in the hat." High fives to Jimmy! He called her second song "flawless" and said she brought all of her tricks in the right balance. I wasn't as blown away by it as he was, probably because I think, just as I said last night, that LaKisha Jones did it better.

Again, no results. They're really making us work for it tonight.

Before we can learn the results, J.Lo, the "matriarch" of Idol, performs "Dance Again" as a preview for her upcoming tour with Enrique Iglesias. I hope Jessica is paying attention, because THIS is how to sing and dance and perform. Where does she think Beyonce learned her moves? Except I can't be positive that Jennifer's actually singing this and not lip synching. Oh well. She's still good.

Keiran dimmed the lights. Finally.

Jessica Sanchez is the first to the Top Three. Joshua Ledet is next. They'll both visit their hometowns for pomp and circumstance.

Phillip and Hollie remain standing. And now's a great time for a commercial breakk.

The final person in the Top Three is Phillip Phillips. Hollie's headed back to Texas. It's been a great climb for Hollie, but her mountain's not quite as tall as the mountains of the other three contestants.

Did Hollie deserve to go home this week, or do you think it should've been someone else?

Miranda Wicker is a Staff Writer for TV Fanatic. Follow her on Twitter.

Tags: American Idol, Reviews