Remember 2002's "Viewer Mail" episode?  It was the last Family Guy before the show went away for the second time. The good news here? The series is not going away, but it is returning to the format a decade later with the ingeniously-titled "Viewer Mail #2."
The first segment, "Chap of the Manor," was easily the best of the three, leading off the show. Posited as the British show that Family Guy was based off of, it served not only as a humorously askew version of the show, with everyone having stereotypically British noses, bad teeth, and accents, but also as a clever meta-commentary on the show. Stewie was a classless boor with a southern accent, Brian was a horse.
British Peter had a slap fight with a giant pheasant. "Shut up, British Meg." While a lot of the jokes were also poking at sterotypical British culture, it was overall a very humorous segment.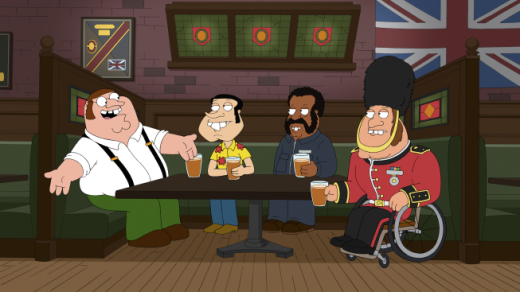 It went downhill from there, though. [insert title here] had Peter struck by lightning, and his wish granted to turn everyone he touched into Robin Williams. That's going to go well with no comic foibles whatsoever! Peter found himself annoyed by all the different Robin Williams (including Meg turning into "one of the sensitive bearded Robin Williams characters"), especially once everyone in town was turned into one. Peter waking up next to Lois-turned-Robin-Williams was funny, albeit obvious. The dark ending to the segment was a welcome twist.

Finally, there was "Point of Stew," which was admirable if only for its ambition: an entire episode from Stewie's first-person perspective. It had to be a challenge for animators as there was little that could have been reused from previous episodes, and not cheap given the amount of new animation to be produced. There were a few giggle-worthy gags, like when Stewie gets caught under Brian's car and sees Herbert under a school bus, but it all seemed to go exclusively for gross-out humor; how many butts can Stewie get trapped under, anyway?

I was really glad to see the Viewer Mail format returned to, and even the joke in the intro that cracked on about the show's similarities to The Simpsons was worth a bit of a laugh. There were similar small laughs throughout the episode, and it was one worth watching, even if it wasn't as good as the original.

Tags: Family Guy, Reviews