Smash Review: And Marilyn is....
by Carla Day at .
Break a leg!
If any performance of any show needed that fortune, it was this preview of "Bombshell." They had a unprepared lead with ill-fitted costumes, a new ending, and, with the exception of Derek a lack of faith that they would succeed.
But succeed they did!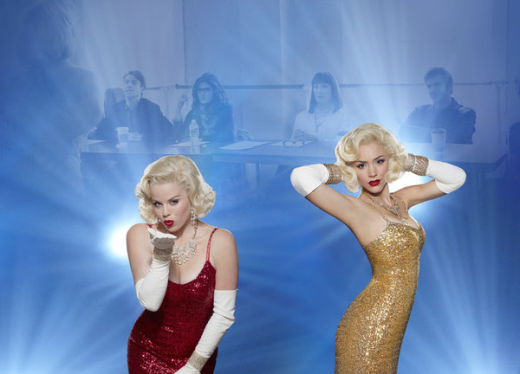 Smash had a few questionable storylines through its season, but in the finale it got it almost all right. The battle for the role of Marilyn once again was a decision between Karen Cartwright and Ivy Lynn. Based on the poll we did, most of you should be happy that Karen came out on top.

In the end, that girl persevered and deserved it. Especially since no one but Derek believed in her. Add in Ivy's continual sabotage, it's a miracle Karen didn't do worse than run off to the dressing room to let out a few tears. And she was brilliant. She was Marilyn!

Tom and Julia were able to pull out a beautiful song to close out the musical; the perfect reflection on the life of Marilyn. It also worked nicely as a closing to the Smash finale showing the pride on the faces of those involved in Bombshell, as well as, Ivy's despair.

Smash has been renewed for next season and is set to premiere at mid-season. This finale provided some insight into what may happen when the show returns. Some good ... others not so much.

Ivy's attempted suicide will have to be addressed. Did she succeed in killing herself? Her despair was difficult to watch, though much of it she brought on herself. Her action was definitely a cry for help and given her history maybe even meant to be a punishment to others, especially Derek. If she really wanted to die, she wouldn't have taken the pills in the dressing room where she should be found within minutes. If she survives, is there any chance the production would take her back? I find that doubtful.

Ellis is gone! Or, is he? His inflated sense of himself finally got the best of him. Eileen had no choice but to fire him when he outed himself as Rebecca's poisoner (which most of you predicted in last week's poll). He was so deluded to think that Eileen would be proud of him. I don't expect that Ellis is going to go away quietly, though. Despite how much his character is despised, he will most likely be back and with a vengeance. Will he turn this into a legal battle since he first mentioned the words "Marilyn" and "musical?"

The storyline I hated the most was Julia's affair with Michael. It ended up being not nearly as bad as it started, but the Julia we were introduced to in the pilot was not that Julia. As soon as she got sick, I wrote in my notes, "Oh, man ... she better not be pregnant!" And then what does she say to Tom ... the last time she was sick was when she was pregnant with Leo. To the writers of Smash: Please do not go down this path. Her throwing up was just due to stress or a bad burrito. Forget it ever happened. Please!

Ivy is such a bitch. Her decision to tell Karen on that day that Dev slept with her was selfish and unforgivable. Karen and Dev have had some ups and downs, but after their engagement, I started to understand their connection. In some ways, I hope they get back together. If they don't reunite, it would open up many new opportunities for Karen when she returns to New York. And, no, Derek should not be an option!

Even with the ups and downs throughout the season of Smash, it was an enjoyable ride. The music and performances were a highlight of the season. Are you looking forward to sticking around to see what happens when Bombshell hits Broadway?

Next season, Smash has a new showrunner, Josh Safran (Gossip Girl). Given how the show ended the season, what storylines do you want to see carried over and which would your prefer to never see again?

Carla Day is a staff writer for TV Fanatic. Follow her on Twitter and on Google+.

Tags: Smash, Reviews
From Around the Web