Nurse Jackie Review: Don't Sweat the Technique
by Chris O'Hara at .
With this season of Nurse Jackie is winding down, the show's writers have done well to turn up the heat on many levels.
"Chaud & Froid" was a tempest fueled by a turbulent mix of hot tempers and cold hearted reactions. The episode was not without its clear skies, however. Just as Jackie and her crew were able to ease the lack of air conditioning with some delicious ice pops, there were more than a few moments that served to bring a smile to this fan's face.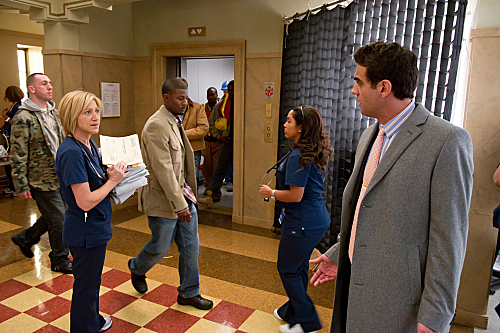 Let us begin though with the scenes that were a little harder to swallow. The bitter taste left in my mouth by developments like Cruz's firing of Eddie and Gloria was not because of anything lacking on the part of the actors, I just hated to see them dismissed like they were and with Jackie was forced to watch, to boot. I don't think Nurse Jackie fans will be without Akalitus's alacrity for long, though.

With so many characters putting aside past grievances to do something nice for another member of the staff this week, the tail really was pinned on the donkey when it came to Cruz, who instead of thanking Jackie for being there for his son used the encounter as a catalyst to dispose of two very vital members of the staff. 

I thought it was a clever bit of foreshadowing when just as she was leaving Cruz's office, the air conditioning finally kicked back on, much to the arrogant administrator's delight.

I think Cruz is going to quickly realize how those people he fired really were the lifeblood of the hospital. If he thought forcing uniform scrubs on the staff was a morality bomb, his latest actions will be Hiroshima-esque when the news hits the floor. Offsetting his loathsome game of tit for tat though, were a number of noteworthy gestures by others.

Eddie put a hole in Kevin's case by telling Jackie about the girls being in the room when Kevin did a dance of his own on the pharmacist's face. Zoey waited on line at the bank to get Lenny some euros for his trip to Greece, Akalitus brought O'Hara the fan and Coop was finally rewarded for his paternal gestures by being asked to go to the anatomy scan of O'Hara's baby. I loved how, despite her finally caving in and asking him, Eleanor still made him ride in the front seat of the livery car. 

Jackie once again showed her softer side to nursing by going out of her way to get the right popsicle for the elderly woman in her care while Thor did his best to brighten the outlook of Lady Gaga's dancer by showing her fake hips don't have to be square. His line about being all "cry-abetes" was one of the best Nurse Jackie quotes of the episode. 

Zoey delivered possibly the best performance of the episode. Whether it was her E.T. reference when telling Lenny she'll always be in his heart or her more sincere but just as heartfelt offer to move out to avoid Jackie possibly resenting her down the road, she delivered some of the episode's best moments while remaining out of the main story lines for the most part. 

Jackie asked Zoey to stay in the end, to help her avoid a relapse. The business with Cruz rocked her pretty hard as she lost two key people, who as she put it, enabled her to get better. Matters with Kevin seemed to be tilting in her favor as the episode came to a close, but it left me feeling like she was being set up to be blindsided by him.

I also felt like the warm and fuzzy mood at the Ob/Gyn office might end badly for Coop and Eleanor. Sonograms have always struck me as more nerve racking than enjoyable and the way that scene ended with Coop mentioning how he could see the spine made me worried that O'Hara could be in for some bad news with regard to her baby's health. Just something about the way he said it and how they cut away to the next scene struck me as odd. That said, O'Hara would have probably noticed if something was wrong, so I hope I was just being paranoid. 

Jackie is taking it one day at a time, but like she said, you don't get to keep everything you started with. As we approach the finale I can't help but feel there is still one major shoe left to drop on the good people at All Saints. Time will only tell. Until then, I am eager to hear what you thought about the episode as well as what the end of the season will bring. 

Tags: Nurse Jackie, Reviews
From Around the Web