Pretty Little Liars Review: Ambiguous Loss
by Leigh Raines at .
On the latest installment of Pretty Little Liars we learned from the creepy but sexy Dr. Wren that Hanna is experiencing something called "ambiguous loss." On "Blood Is the New Black," however, psychology terms weren't the only thing Hanna and the other liars discovered!
As Aria mentioned at the outset, the new A is seriously trying to one up Mona. Newsflash: it's definitely working.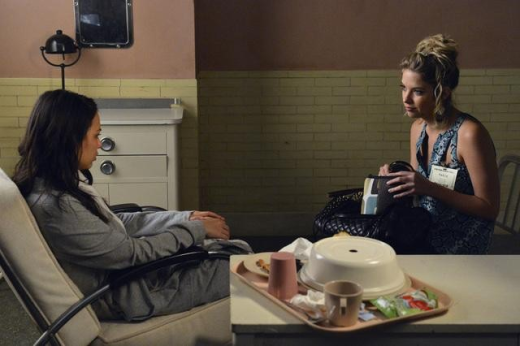 As if Emily hasn't been tortured enough, she discovered the new meaning of friendship bracelet when she pulled a charm bracelet out of her purse with the note "dead girls can't smile," adorned with real human teeth. Yes, those were real. The director of tonight's episode live-tweeted as much.

Emily is already facing the possibility of repeating of junior year after a month full of absences. You know, absences caused by the mental anguish and mourning over her murdered girlfriend. Can't she catch a break? It seems like Emily has become the number one target of the new "A." 

The only other liar who was really got a threat tonight was Aria and hers came in a slightly less creepy form, earrings she put in Ali's coffin before they buried her. Didn't that seem like a weird choice of what to bury with Ali? Nothing else represented their friendship better? I find that hard to believe. Maybe that was the biggest secret Aria shared with Allison and by burying the earrings she felt like she was burying the secret? Any other theories are welcome!

When Spencer asked the girls if they really wanted to explain every single lie they told since Ali died, I was thinking I'd really like to see a list. It seems like A has all these secrets about their pasts, but there must be a ton of information and stories that as the audience we just haven't heard. For instance, the fact that Aria and Ali sabotaged Byron's office to make it look like his girlfriend was going all Fatal Attraction.

The other half of the quartet was busy playing detective. Spencer truly has balls of steel. I think the only people she are afraid of are her parents, but then we saw her outright defy her mother. By the way, did anyone else notice the blip of a reference to Melissa Hastings going through a hard time? At this point, I'm thinking that she miscarried or something happened to the baby considering her pregnancy was pretty far along. 

I mentioned in the Pretty Little Liars Round Table last week that I felt like Hanna's character has shown a lot of growth. Just by visiting Mona at the hospital she is putting a lot on the line but she seems to have a new strength about her. I'm so glad she finally told Caleb about the visits. How many girls can say they are lucky enough to have a boyfriend who supports them the way he does?

Something else I'd like to know about Radley sanitarium - aside from why Wren always seems to be there - is how Hanna possibly could've gotten in with a pair of tweezers or any kind of sharp object. There's no way they wouldn't check her bag beforehand. As Hanna reminded us, Mona isn't even allowed to have floss!

Well... despite a rousing monologue from Hanna - screaming at a catatonic Mona about peach pie and back hair - Aria definitely took the cake when it came to tonight's one-liners. I've saved the best part of tonight's episode for last and all I have for you are three little words spouted by Miss Aria Montgomery.

Bitch can see! | permalink

Now that the girls know Jenna lied about her surgery, she has definitely been bumped to the top of the A-Team list. Jenna is public enemy number-one. We'll have to wait until next week to find out how they plan to use this information, but with Spencer heading up the operation it's sure to be intense! What did everyone think of the latest PLL? Hit the comments! 

Leigh Raines is a TV Fanatic Staff Writer. Follow her on Twitter.

Tags: Pretty Little Liars, Reviews
From Around the Web