Rizzoli & Isles came back after last week's season premiere with Jane and Maura acting more like high school frenemies than loving friends. The two pulled no punches in "Dirty Little Secret, each finding her inner mean girl and proving that there's nothing worse than a former close pal.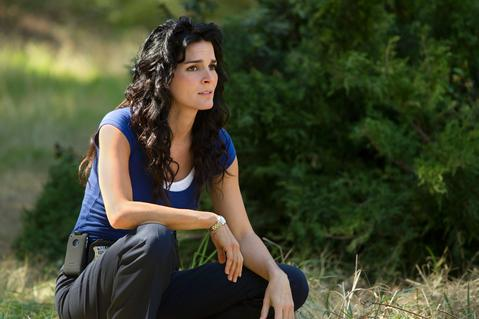 Daddy's home. Poor Jane wasn't only dealing with her and Maura's relationship fall out. There was also some serious family drama with which to contend.
Frankie Sr. rolled in after a year's disappearance to announce he's getting married. How sweet. And if that didn't get you all warm and fuzzy, there's more: He's petitioning the Catholic church for an annulment so that he can marry his latest love in the church.
Annulled!?! Is he serious? He was married for thirty years and has three children. Can you actually fill out some paperwork and pay a fee and make that all go away?
I'm with Jane on this one, as she vented in this Rizzoli & Isles quote…
So, I guess that makes us all bastards. | permalink
At that point she didn't even know her new step-mommy is going to be younger than she is.

And what about Tommy? He seems to have a lot of his father in him and I'm not even talking about sleeping with his future step-mom (but while we're on the subject: eww.) I'm referring to his timing. Where Frank Sr. decides that asking Angela for an annulment in the middle of her work place is a good idea, Tommy thinks that since Maura and Jane are on the outs that it's a good time to put the moves on Maura. Double eww.

Worst yoga workout ever. Rachel looked like a nice girl but if you're going to work out in an abandoned steam tunnel by yourself, you're kind of asking for trouble. Unfortunately she found it and someone else found her body two days later.

I wonder what all the enlightenment gets you once you ascend over to the other side?

What the Frack?  So the sensei yoga master was actually looking to make a quick buck off of some fossil fuel rich land. That was certainly a twist. I was only expecting some sex hungry yoga cult leader looking to take advantage of coeds. Apparently Mathew transcended my expectations.

Sadly, he decided that garroting a coed was the better way to hide his dirty little secret. Maybe he needs more yoga and meditation to work out those anger issues.

Funniest yoga workout. At least the whole yoga cover led to that great scene with Jane and Korsak at the studio. I loved the assumption that they were married and that Korsak needed the class to keep up with his young wife. You know how Jane can be... very demanding.  So funny.

But back to Jane's real relationship. She and Maura set out on their road trip and it's not the girl talk in the car that brought them together. There's nothing like a serious injury and guns pointed out you to put things in perspective. And if that doesn't work you can always add some contaminated water rushing into your car to speed things along.

In the end, I'm thrilled these two followed the light and found their way back to one another. The show just isn't the same when Rizzoli & Isles are  fighting. And am I the only one who thinks they share some of the best hugs on TV? Let me know if you agree.

C. Orlando is a TV Fanatic Staff Writer. Follow her on Twitter.

Tags: Rizzoli & Isles, Reviews