There was no question that when Evan brought Selena to dinner on the last episode of The Client List it would cause even more friction between Selena and Riley. But it quickly turned to sparks in "Games People Play" and it wasn't just between these two ex-friends.
Clients at the spa might understand the need for discretion but the clients whom Selena sees on the side definitely do not. Selena couldn't peel that guy at the barbecue off of her and that was while she was in the middle of putting the moves on Evan.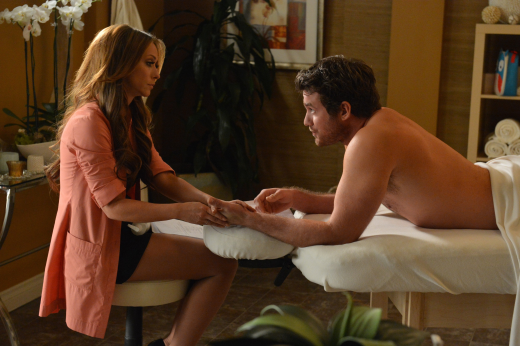 Speaking of moves, Selena was certainly moving quickly. Then again, if you're working as a hooker on the side you get used to that. As far as we know, she and Evan have only had one dinner and she's already asking him to go away with her for the weekend. Even Evan seemed shocked.
But according to Riley, Evan's always gone for the bad girls so perhaps this is a match made in... well, somewhere a little south of Heaven.
As Riley told Selena in this The Client List quote:
You can screw with me all you want. You can even screw Evan because he is a grown man who can take care of himself but if you ever bring him here I swear to God you will live to regret it. | permalink
Of course Selena might bring him around again just to spite her.

I wonder how many of Selena's boyfriends Evan's going to run into before he realizes the truth. Once he does you know it will take a hot minute before Selena spills the beans about Riley. Riley's only hope is that they fizzle out before it comes to that.

On the home front, Travis wondering why daddy quit on their family was crushing. Kyle's a coward for putting his kids through this.

If I didn't think that Taylor was completely ridiculous before, finding out that she named her daughter Twinkle convinced me.  Twinkle? Really?!?

It was so sweet of Riley to want to partner with Linette to buy the salon but it made me wonder how much she's been making at the salon that she's able to do it. 

So do you think Lacy will jump in and the three of them will buy the salon or will Taylor be the boss? How serious will Selena and Evan get and how long before someone else finds out Riley's secret?

C. Orlando is a TV Fanatic Staff Writer. Follow her on Twitter.

Tags: Reviews, The Client List