Covert Affairs Review: Pirates; Wife For Me
by Dan Forcella at .
Structurally, "The Last Thing You Should Do" was exactly what you look for out of an episode of television. There was a great mix of entertainment with Auggie's trip gone bad, and intrigue-building serialization with everything else that was going on at the home front.
It just never came together completely. The hour was filled with everything I asked for after the season premiere. We had Lena and Joan butting heads, as well as Annie continuing her relationship with Simon to serve some sort of end goal. I just couldn't have cared less about either situation.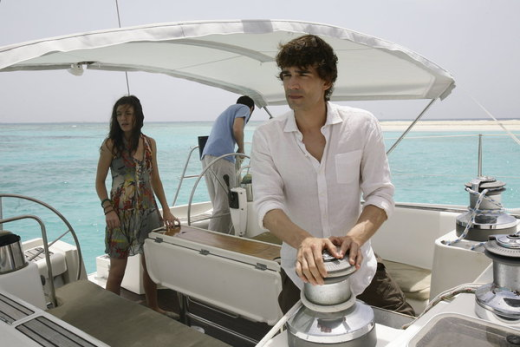 Maybe it was simply because Chris Gorham was once again so engaging that everything time they put the camera on someone else it was disappointing. Seeing Auggie in the field is always good fun, but "The Last Thing You Should Do" was much more than that.

We were able to witness him loving life, and then quickly having to worry about the lives of others. He lost control, and then he took control.

Auggie is a complex guy. Sometimes you have to ask: why has he so quickly fallen in love with Parker? Is this something that might end up hurting him in the end?

Luckily for the two of them, they seemed to have crossed the biggest hurdle of them all: Auggie's secret. The dude's proposal - and her acceptance - was filled with so much warmth and happiness that you had to know it was going down hill from there... and I'm not just talking about pirates.

The pirates did force Auggie's hand, causing him to maybe let the cat out of the bag sooner than he would have liked. As you would expect, Parker didn't react to the news kindly. "Who am I marrying, Auggie?" She asked apprehensively.

I wondered if that was going to be it for them, as a surprise like that can often be enough to end everything. Thankfully, they were stuck together for a while after Auggie dropped that news bomb on her, so Parker was able to see that he is still the same guy he's always been.

It probably didn't hurt that he knocked out two guys to help them escape and get home. She had to be excited that her now future husband is such a stud in a fight.

Ultimately, Auggie explained that this was his only secret, and she now knew it. That seemed to be enough to push it over the top and keep these two crazy kids together. What about his secret that he has latent romantic feelings for Annie? Parker doesn't know about that little nugget... neither does Auggie, though - and that might just be made up by fans of the show.

I wanted to enjoy the moments outside of Auggie's adventure, but it just never happened. Honestly, the couple of time's Anne Dudek popped in to say a word or two seemed more entertaining than anything going on with Joan/Lena or Annie/Simon.

Auggie's adventure was more than enough to make "The Last Thing You Do" another entertaining episode of this third season of Covert Affairs. What did you all think of the hour? Was it the best yet? Or did it fall short of your expectations?

What was your favorite moment of Auggie's adventure? And what did I not get about the home front drama? Sound off in the comments.

Dan Forcella is a TV Fanatic Staff Writer. Follow him on Twitter.

Tags: Covert Affairs, Reviews
From Around the Web