I'm so completely heartbroken by this week's Drop Dead Diva. "Rigged" didn't keep me fully engaged with its latest case because of all the engineering jargon, but boy was my attention caught by the end of the episode.
Between Parker's custody case and Owen's betrayal of Jane, I found myself needing to grab a few tissues.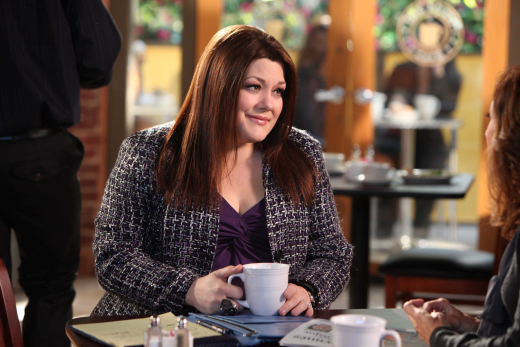 Is this the end of Owen? Is he gone for good or do you think he will eventually come back with his tail between his legs?

Last week, I wrote that you can't force someone's hand when it comes to love. I think Owen panicked in the moment and knew Jane was going to leave him since their beliefs on marriage were different. Even if Jane didn't say it, Owen felt like he was handed an ultimatum. It was too fast of a turnaround and I hate to say it, but I wasn't convinced Owen had truly changed his mind.

Honestly, I don't think Jane was fully convinced either. Jane and Owen both have busy schedules and it's usually not a big deal when she can't get in touch with him, or one of them has to cancel a date. Jane was panicked from the get-go. Also when Terri told Jane that Owen had lied, Jane seemed very sure that he had left her. There was no possibility that he lied for another reason, something law or family related; she jumped right to the conclusion that he left her.

Whether or not you believe that Grayson is right for Jane, or is just looking for Deb in other people, I truly believe that he cares for Jane as his friend. He is there for her first and foremost as someone who has real feelings for her. Also, where was Luke during all this? Isn't he supposed to have some sort of foresight? He's been super controlling in Jane's love affairs so far. The only thing I am sure of is that I'm heartbroken for Jane right now.

I'm also sad for Parker. He didn't know that Eric was his son until recently and he's been a great father to him since they met. It sucks that Elisa is taking him across state lines and while Parker has only been in their life for a brief period of time, I still think the judge should've gone a different way. In a crappy domino effect, Parker took his anger out on Kim which was completely unnecessary. Now, nobody's happy.

After winning a great settlement for the case of a widow, everything went downhill. You win some, you lose some. Here's hoping that next week we get more of Joan Rivers and some happier moments. I wasn't too pleased with Serena Williams' character, but maybe it was because she was yelling at Parker! What did you all think? Hit the comments and don't forget to check out this week's Drop Dead Diva quotes!

Leigh Raines is a TV Fanatic Staff Writer. Follow her on Twitter.

Tags: Reviews, Drop Dead Diva
Want more Drop Dead Diva?
Sign up for our daily newsletter and receive the latest tv news delivered to your inbox for free!
From Around the Web
More From TV Fanatic
It's getting crazy on Gang Related! Lines are being crossed by gangsters and officers, is anyone in the right?
On Rookie Blue, Andy assists Sam in a missing persons case. Elsewhere, an undercover operation to track down illegal handguns sends Chris scrambling to maintain control.
Join us for the rewatch of Gossip Girl Season 2 Episode 9 "There Might Be Blood." What did you think of this episode?
Duck Dynasty Season 6 Episode 5 was all about re-branding. Read on for our latest rundown.
---