"The Online Date" was another solid outing for Jane by Design, but there are a few things in play could really begin to elevate the show and the story it wants to tell.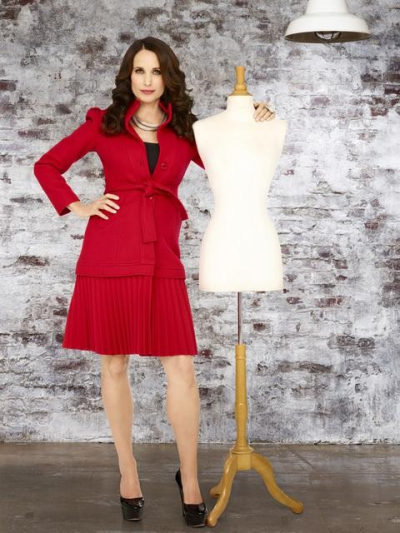 Play One: Kate
Teri Hatcher coming in to portray Ben and Jane's long-gone mother was a smart move on the show's part for two reasons: appeal and ability. The actress has plenty of post-Desperate Housewives shine, and Teri has the ability to play a character that is plenty unlikeable right now; those traits are vital for a character like Kate because she has the talent to draw sympathy from the audience. Particularly where sympathy might be what the audience wants to feel, and that might be what the show wants from the viewers from this story.

Now, with Dakota back in Kate's life, and down on one knee, there's a chance to really begin to unravel her character, or, at the very least, begin to see where Kate's head is at and why she walked back into her children's lives. Kate has been constantly changing the subject, or being very vague when anyone attempts to ask about her past; so, needless to say, I'm hoping this will begin to shed light on Ben and Jane's past, and her own past.

Play Two: Tension and Triangles
While Billy and Jane are still pretending they feel nothing for each other, or just not verbally letting us know, the fact of the matter is the tension is still there. It feels like the show is purposely letting Billy and Jane try to grow apart from each other just so we know how important they are to one another: especially when it never works since they always end up relying on another.

Plus, Zoe and Nick now have the perfect opportunity to run away together like it's 2006 and High School Musical just aired. The jock and the cute, smart girl both join the school play, and the rest is the start of something new, or their bop to the top. I could go on and on with these plays on song titles, but I'll try to save myself the embarrassment and your pity.

The only foil in this amazingly thin theory of mine is Zoe is still focused on Billy. She's introducing him to her family... her two dads. I wasn't expecting that, but it works for the Billy and Zoe. Billy is afraid her parents won't like him, but two men who have faced adversity and judgment based on prejudice and stereotyping can look beyond Billy's cover and see him for the great guy he is.

The other triangle tonight featured Amanda and Rita vying for Ben. Amanda is quickly getting on my nerves, and the entire subplot of Harper and Lulu telling Rita the only way she's going to win is to be a mean girl was absolutely terrible. Rita trying to impress Ben by not being herself shows that maybe she was right to break things off because she hasn't found her own self-confidence yet, and she's missing what Ben sees in her.

That doesn't mean I didn't love the revenge Rita gave to Amanda with the Bloody Mary.

Play Three: Workplace Politics
It's too bad India decided to be a bitch (Jane's words) again. I really preferred when they were working together last week; however, India doesn't quite grasp that Jane has completely won Gray over.

Jane has quickly become Gray's confidant, muse and right hand girl. Gray gives Jane unparalleled access to her life, and Jane has, in turn, responded with admiration and devotion. Gray sees that, and Gray would have shown Jane the door on many different occasions if Jane weren't Jane.

Sadly, India is so shallow and petty I don't know if she'll ever truly see that, but Jane is almost bulletproof at this point…so long as she doesn't mess up with Gray too much.

What did you think of tonight's episode?

Nick McHatton is a TV Fanatic Staff Writer. Follow him on Twitter.

Tags: Reviews, Jane By Design
Want more Jane By Design?
Sign up for our daily newsletter and receive the latest tv news delivered to your inbox for free!
More From TV Fanatic
Evan, Paige and Bob confront Russel about his rug theft, while Divya and Jeremiah treat a woman desiring to be a mom. But were those all the surprises the Hamptons had to offer? Read our review of "I Didn't See That Coming" now!
On Chasing Life, Leo makes wishes come true. Elsewhere, Brenna meets her other sister, discovering one more family secret. Read on for more!
Join us for the One Tree Hill Rewatch of Season 1 Episode 4! Ready to relive the fun drama?
Power struggles ensue all around Chester's Mill on Under the Dome. Lives will be put on the line.
---