Great Godric's ghost, what an episode that was.
"In The Beginning" had to be the wildest ride of the season thus far, what with Russell crushing vampire heads and Jason shooting them. For those of you who felt True Blood's guru, like Sookie, had been a little off his game lately, I have to think tonight restored your faith in Alan Ball. 
I really enjoyed seeing the bond begin to form between Tara and Pam, even if Pam showed reluctance to let Tara into her heart. I never thought Tara was that terrible a bartender, but she did look pretty skilled on that pole. Loved how she didn't back down one bit when her mom came calling to guilt trip her.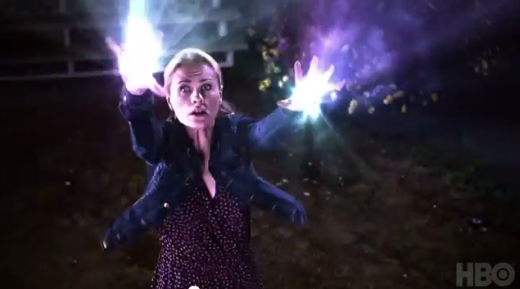 Speaking of scared parents, I had forgotten that Sookie's mother was scared of her daughter's power, but I still feel like Sookie is fooling herself if she thinks life as a normal human will make everything alright. I know he didn't go to medical school or fairy school or nothing, but I'm pretty sure Jason will set his sister straight. What will come of Eric's sister, though? What do you think Godric meant for him to do? 

I haven't seen a group of vampires that unruly since Lost Boys. Maybe the recent events in Colorado have me on edge, but did they really need to show prune face feeding off a child? Other than that part, I could not applaud the return of Sir Russell enough. Coming in at a close second to him was Eric, who provided some of the best True Blood quotes of the season. Even Alcide chimed in with a couple gems. As if him rolling around with no shirt on wasn't enough, his line to Martha about her son not having a grave - because they all ate him - floored me. 

Two of my favorite scenes this week were Arlene watching her wedding video and Jason and Sookie's heart-to-heart when he brought her breakfast in bed. It's always good to see the softer side of these characters to remind us they have feelings and real lives invested in these story lines and aren't just pawns to be ushered around by supernaturals. 

Like Andy knocking on Sheriff Bud's door, this episode caught me at a bad time, as I am battling flu-like symptoms... so I am going to leave it to you all to share your thoughts about the above mentions, as well as Hoyt's new gang, Jason's tiff with Jessica and what your take on Lilith and her weird nether regions were. 

Check back in later this week for more in our True Blood Round Table!

Tags: True Blood, Reviews