On tonight's Rookie Blue, Chris is thrown into a situation that could change everything for him and his fellow cops. 
In anticipation of "Every Man," Travis Milne talked to TV Fanatic about his character's love life, who he'd love more scenes with and when Chris Diaz reaches his boiling point.
-------------------------------------------

Before this season Chris had always been more of a one woman kind of guy. But since his breakup with Gail we've seen big changes in his behavior. Were you surprised?
I feel like the viewers are surprised, but from an actor's point of vi but I was kind of hoping that my character would experience something of authenticity.  I feel like what Chris has gone through is really relevant to a lot of young men... It's usually never the breakup with the high school sweetheart or the first love that really rocks your boat. You usually jump into another relationship that kind of is more or less a bandaid for the big breakup. 
Then once that one has concluded, then it's like all's fair in love and war. You kind of let loose a bit and sow your wild oats so to speak. I feel like for Chris to go through that, it is kind of dark and edgy and yet kind of funny at the same time. It was really interesting and a lot of fun to play but all in all I think Chris deep down is really a one woman kind of man.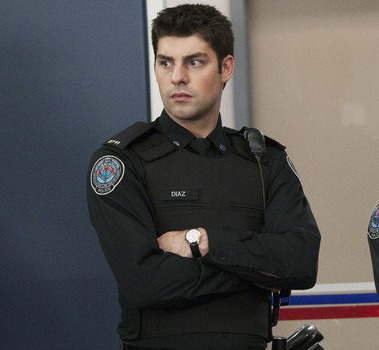 Do you think Chris belongs back together with Gail or are you hoping he finds someone new?
When Chris met Gail I think they were right for each other but love and relationships have a lot to do with timing.  I feel that if Chris and Gail had met maybe three or four years later than they did, that things would be a lot different but I don't think they're over just yet.  I don't think they're out of the woods. 

I know there's definitely going to be some stuff in the next two episodes and the start of season four that definitely rocks Chris and Gail's chance of getting back together.  Even at this point where we're currently shooting 403 (season 4, episode 3), and I still feel that Chris and Gail are not necessarily out of the woods. 

Who is you favorite character to share scenes with on the show?
I enjoy working with everyone on the show but if I had to pick one person that in terms of chemistry…you know what…Greg. Greg Smith (Dov Epstein). The great thing about doing scenes together with him is that literally I'm bantering with my best friend on camera and he's my real best friend in life. The spontaneity and the banter between us is so genuine. It's nice to work with someone like that, that you know that well.  Not very many people get a chance like that to work with someone that they're genuinely really good friends with. But we're both artists so we want it to be good. There's a lot of give and take.

Is there a character with whom you wish you could share more scenes?
Definitely Swarek. When Chris is paired with Swarek, there's a dynamic there that's very interesting for Chris.  Chris struggles because Swarek, in a sense is what Chris could easily be in fifteen years.  A kind of a hardened cop who has gone through the trials and tribulations and seen the harsh realities of what it's like to be on the force for that long period of time.

I mean, you see things every day, day in and day out that change you. So I feel like that when Chris is paired with Swarek, I think you get to see not necessarily foreshadowing, but something that Chris is struggling with. He's an idealist when it comes to being a police officer but I think reality is starting to sink in and he's going through some changes and experiences right now that a lot people in their mid-20s go through.

Chris is kind of a salt of the earth guy and does not have a problem calling anyone out. I feel like Swarek often at times needs to be called out. He gets in his head and he gets stubborn and Chris will just call him out and he'll kind of kick or fight it a bit but then he'll say yeah you kind of have a point. That's really interesting because at one point he's still training me and giving me the direction I need to be a better cop, but I have the ability to navigate some of his emotional land mines and help him be maybe a happier person.

Speaking of Greg, he did a great job directing an episode this season. Have you ever considered writing or directing an episode of Rookie Blue?
All I do in my spare time is write. Literally that's all I do. I feel like as an actor that you only get one. To be a writer that wants to direct and act in his own stuff, it's just not a good idea. You're setting yourself up for a very long bout of narcissism. But I feel like I'm really, really, really interested in writing and creating. I've always done it since I was a kid. But directing, not so much right now. I'd rather have a director that I really gel with and work well with and have them kind of monitoring and making sure we're both getting what's really best for the character and for the story. But I would not mind at all writing. I really enjoy writing.

Is there anything you can share with us about tonight's episode?
It's the first episode that we go back and forth through one day with different perspectives. If you've ever seen the film Jackie Brown, it's basically like that... We're playing with time a bit. It all kind of comes to a boiling point for Chris. At the end of the episode, one of the rookie's jobs is at stake and one of them will be in a lot of trouble. It's a very, very intense episode and it has some of the best shots I've seen on the show so far.

C. Orlando is a TV Fanatic Staff Writer. Follow her on Twitter.

Tags: Exclusives, Rookie Blue, Interviews, Travis Milne