This week on True Blood, Russell recalled meeting Jesus Christ and described him as a hippie that reeked of patchouli.
Well, at least he knew how to put on some clothes.
While "Sunset" revealed with some hints as to what we can expect in the finale, I found myself growing tired of Lilith's lack of modesty and any semblance of fashion sense. Maybe it's the whole afterbirth look, or the grizzled snatch patch she continues to sport. Forget about drinking her, she needs to ask Bill to "clean me, clean all of me."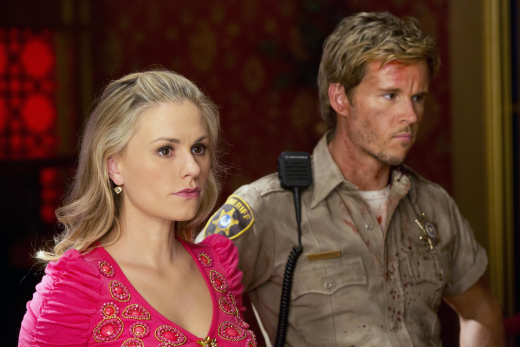 If Lilith appearing before multiple Authority members had some confused, Pam did well to clear up a good part of what has been going on. I thought the concept of a vampire nest seemed to make a lot of sense given the behavior we have seen Bill and the others displaying. I also found myself wondering if Godric just might be the one behind the various Lilith visions in hopes of saving his progenies by turning the other lost sheep against one another.
While Bill has obviously lost it, I did like his increasingly smug behavior this week. He loves to drop the "I have other matters I must attend to" line, doesn't he? It's like he's politely saying piss off. Must be nice to wield all that power.
Elsewhere, The Authority certainly doesn't seem to be feeling the recession, huh? What with Bill ordering Jessica to take the helicopter to Jason and Salome telling Eric and Nora to jump on the AVL jet. 
Loved seeing those two make up, make out and then some. Nora begged Eric to forgive her and I'm pretty sure as he zoomed off screen to put the thunder hips to her she was feeling pretty absolved. Eric came and went and of course just missed Pam arriving as Rosalyn's prisoner. Sam and Pam crossing paths in the hallway was perhaps my favorite moment of the episode. I have enjoyed the various story lines this season, but seeing all these characters bumping into each other countered those who have felt like the show has gone in too many directions.
With so much still unresolved, I felt like the lack of closure was a distraction, but I was still able to enjoy amazing scenes, such as all of Eric's amazing additions to the best True Blood quotes of the season, the Elder's game of "for or against" and Pam back in top form sassing Jessica at Fangtasia.
So if some of you found yourselves frustrated at times like I did, just focus on those moments, and if that is not enough you can always go back and watch a shirtless Alcide digging in the dirt. I was glad to see him and his dad put aside their issues to whoop up on those baby vampires. 
So... with just the finale left to sink our teeth into, I have come to a few conclusions.
I think Warlow is Bill. My feeling was bolstered by Sookie referencing how the air monster she saw told her "you are mine," just like Bill used to tell anyone who so much as looked in Sookie's direction.
I don't think Andy will be doing the "You are not the father" dance from the Maury Povich show anytime soon, but I do think he and Holly will end up together.
Tara will come to Pam's rescue with the help of Jessica and Jason and, while the latter won't get Russell. I do think he will take out his man-fan Steve.
Eric and Nora enlist the government's help and we will get to see some of those new toys the general boasted, in action. 
With so much still unanswered I felt like I had to stick my neck out here and make some guesses as to how this season will wrap up. Please weigh in with your thoughts and predictions as well. 

One last thought, though. Did anyone else find it hilarious that Arlene actually was worried about Terry getting her in trouble for kissing her while at work? At Merlotte's? Really? I think you're safe, Mrs. Bellefleur. 

Tags: True Blood
Want more True Blood?
Sign up for our daily newsletter and receive the latest tv news delivered to your inbox for free!
More From TV Fanatic
What will go down this week on True Blood? Check out four photos from "May Be the Last Time" now.
On True Blood Season 7 Episode 6, Sookie gets some upsetting news concerning Bill. Read our review for plenty more.
How will True Blood Season 7 come to an end? Consider yourself spoiler warned and get an idea now.
Which returning summer show is your favorite? Go ahead and vote now, TV Fanatics!
---