Warehouse 13 Review: Reflecting On Our Choices
by Jim Garner at .
After last week's look at a new artifact in the making, Warehouse 13 revisited one of the creepiest artifacts to ever affect an agent when Lewis Carroll's mirror resurfaced along with Dr. Calder.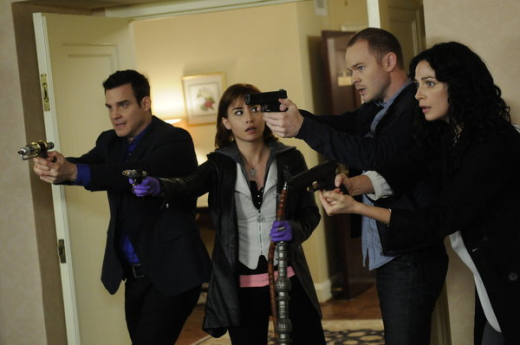 First, welcome back Lindsay Wagner, we have missed Dr. Vanessa Calder while you were way. How awesome was it to see Artie and Vanessa giggling and laughing?!? Sadly, as with many of their dates we get to see, this one suffered from some "Fractures."
Honestly, for as smart as Artie is, sometimes he can be really dumb. I expected that if anyone knew the way to keep loved ones safe was to keep them close, not to push them away it would be Artie Nielsen. Thankfully, Vanessa seems to have more sense and flat out told Artie he was being an idiot with this Warehouse 13 quote:  
Vanessa: Hey, I don't know what's going on with you. But when you finally wake up and realize that cutting yourself off from the people who love you is truly a terrible idea, call me - I'm not going anywhere. | permalink
Let's all hope he is smart enough to get that to sink in quickly. But, then again, it's not about being smart is it? Brother Adrian has him so off kilter than he was actually talking to the walls and didn't realize Lena was in the area. Speaking of Lena, did you find it cool that we got to see Claudia and Steve's auras from her point of view when they swapped? I hope we get a bit more of the "Lena Vision." It's a pretty cool insight into her character. 

Of course, this also led to Steve finally coming clean with Claudia about them being connected. Wow, I'm so glad that is out in the open, that was one tired and worn out secret. While we are discussing worn out secrets, now that Myka, Pete and the gang are on the case, how long can Artie expect to keep the information he has about Brother Adrian quiet?

I guess only time will tell. Sadly for us, that means a little more time as there's no episode next week. So, join us back here in two weeks for more artifact fun.

Jim G. is a TV Fanatic Staff Writer. Follow him on Twitter.

Tags: Warehouse 13, Reviews
From Around the Web