Nothing like some 19th century dentristry to start things off!
As it turns out, the dentist is actually this week's victim. Or one of them. The policeman follows shortly thereafter in what seems like an open and shut case of arsenic in the fruitcake, hence this episode's title, "Arsenic and Old Cake".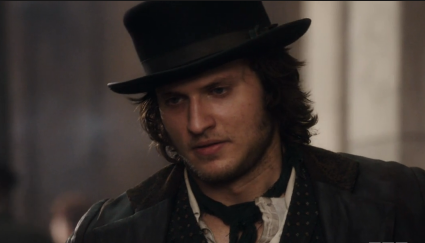 I'm glad to see that particular police officer gone, but the crime this week didn't really hold my attention. It was an episode in the spirit of Law & Order, which Copper has done well, but tonight the mystery was a little bland, no pun intended. I did chuckle a bit at the fact that the murder weapon, the fruitcake, was re-gifted until it finally landed in the dentist's office.

I was much more focused on the other stories. Jasper took to the ring against Irish Jake in the match that Marcus set up and rigged. This just solidified my dislike of Marcus even more, but clearly Jasper had no intentions of throwing the match.

But the most troubling plot to me is Annie and her discontent with Mrs. Haverford. Unlike the rest of Copper, which aims for a semblance of accuracy, Annie seems to be entirely a figment of the writers' imaginations at this point.

In last week's episode, I was willing to give her the benefit of the doubt, but this week she is so much worse. There's a lot that could be said about what children do or don't do in response to trauma, but Annie was so affected tonight as to be completely unbelievable. Until her "father" showed up, which was pretty heartbreaking. That was a unique bit of cruelty on Elizabeth's part, but clearly she didn't know what she was getting Annie into. 

What did you think of "Arsenic and Old Cake?"

Tags: Copper, Reviews
Want more Copper?
Sign up for our daily newsletter and receive the latest tv news delivered to your inbox for free!
More From TV Fanatic
Power struggles ensue all around Chester's Mill on Under the Dome. Lives will be put on the line.
Scott decides to get tough on Teen Wolf after rescuing his Beta by declaring he won't sit back and watch more deaths. Find out what else went down in the review!
Heather and Tamra consider making peace with Shannon on The Real Housewives of Orange County. See what went down in our TV Fanatic review!
On Murder in the First, the trial of Erich Blunt reaches its conclusion. But what is the verdict? Find out when you read the review.
---