I'm still a bit mixed on my feelings about last week's dramatic turn of events, and in plenty of ways I was prepared for a pretty tame and low key follow up episode.
Boy, was I completely wrong. This was another phenomenal addition to season two.
Frankly, it's no surprise, especially with the episode being written by Jami O'Brien and Bruce Marshall Romans. They just happened to have written "Slaughterhouse," another one of my favorites that included that shocking pig feeding ending.
"The White Spirit" didn't contain any killing scenes, but its conversational ones were gripping and engaging. All of the characters had a chance to shine. It also called back to moments earlier in the season. And what was great about that is how they were expounded upon and that there was a real sense that for the characters, things were moving forward.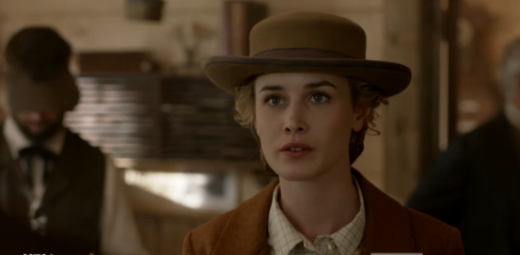 What's funny is that Ferguson even asks a question that is similar to what I've been wondering about where the show is headed: "Then what? Kill the Sioux and finish the road. Then what?"

And while the destination of the series story-wise has kept me wondering, the quality of the writing and acting for the characters in this episode was entertaining enough that it never felt like an issue. The episode was just on fire.

Bohannon may have been reeling from all the death that seems to surround him, but we finally got a real face to face between the gunslinger and his nemesis, the Swede. Who, mind you, is one insane, but oh-so-good, individual.

The Swede's smarmy one liners and underhanded tactics not only got under Bohannon's skin, but under mine. There's a reason that Christopher Heyerdahl was upped to series regular. He's fantastic, whether he's talking about being the same as Bohannon or recounting his horror stories of fighting for scraps. And he was graphically detailed.

I almost got a Star Wars vibe when Bohannon was pushed into almost stabbing him. It was like the Swede was calling him to join the dark side.

And I'm still worried about his connection with the Sioux. That cold open was a truly WTF moment. The Swede is just so creepy!

At the same time, Bohannon's being pushed to his emotional edge with the Swede, Lily brought him right back in. She's been desperately trying to get the men to follow her in Durant's absence, and there was something emotionally raw in her eyes when she told Bohannon to stay.

And sleeping with Durant aside (Why, Lily? Why?), she and Bohannon finally got together. There's an undeniable chemistry between the two, and Bohannon has finally been able to find some comfort, someone who believes in him, and someone who sees him as more than just a killer. He has something to stick around for now. But will it be smooth sailing from here?

Even the McGinnes brothers sabotaging the bar to take control was great. There's a tension between the two with Sean being the quieter one and Mickey mouthing off about feeding people to the pigs, but they still find a way to expand their business and work together. These two are enjoyable to watch, especially knowing there's a certain darkness lying in both of them.

As for Ferguson, he can be so stuck in his ways and "independent" that it was nice seeing him eat and just relax with friends. Although calling out Lily for paid killings was low. But his character is trying to do the right thing with Eva's child and set up a house. He seemed much calmer this time around.

This episode truly had me caring for the characters. There was a sense that even with all the struggles placed before them, they were making moves about their lives. They were progressing with pretty big steps.

It's certainly funny that with Durant gone everything fell apart, but in a way it forced everyone to have to figure out what to do on their own. And I kind of didn't miss Durant either. Is that bad?

This was an engaging episode from start to finish and I hope to see the rest follow suit. And honestly, how great are those scenes between the Swede and Bohannon? Electrifying.

What did you think? What was your favorite scene? As always, sound off below!

Sean McKenna is a TV Fanatic Staff Writer. Follow him on Twitter.

Tags: Reviews, Hell on Wheels