It's the most anticipated role on Revenge Season 2: Jennifer Jason Leigh as Kara Wallace Clarke, Emily's long-lost mother.
Viewers, along with Emily herself, learned on the May finale that this mysterious character was actually alive, prompting the obvious questions: Where the heck has she been? Why did she leave her daughter and her family?
"This is a woman who has battled demons her entire life," executive producer Mike Kelley tells TV Guide Magazine. "She's a borderline personality with serious mental disorders. We will learn that her separation from Amanda as a young girl was because Amanda was not safe around her."
But that wasn't always the case, as this first look at Kara reveals. A very long time ago, mother and daughter simply played on the beach: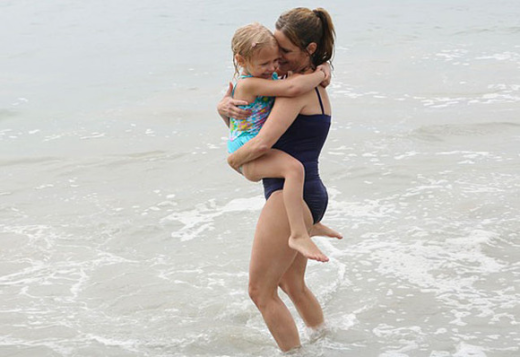 Expect Kara to possess a connection to the Graysons when we meet her this fall, and also expect the unexpected teases Leigh.

"Emily's memories of her mom are all coming back to her. The truths about Kara will be teased out slowly. It's going to be really dark and surprising."

Revenge moves to Sundays and returns on September 30.

Matt Richenthal is the Editor in Chief of TV Fanatic. Follow him on Twitter and on Google+.

Tags: Revenge, Spoilers