Revenge Episode Guide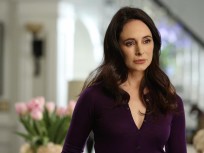 Victoria takes drastic action to handle someone from her past while Emily finds she must rely on a person she betrayed when her blackouts become more violent on Revenge.
Victoria faces a ghost from her past while Emily's mysterious blackouts put everything at risk on Revenge.
On Revenge, Emily refuses to give up even with things at an all time low between her and Daniel but will her own instability be her undoing?
Emily's enemies circle while she remains physically and emotionally in ruins on Revenge.
Emily wakes up after being shot on this episode of Revenge, but she's forgotten everything!
Emily and Daniel get married on Revenge, but they do not have a happy ending.
Emily puts the last steps of her final takedown in place on Revenge.
Victoria throws Emily a memorable bridal shower on Revenge.
Conrad tries to repair the Grayson name while Emily furthers her plans and Nolan embarks on his own agenda on Revenge.
Emily makes an uncharacteristic move when two important people in her life turn on her on Revenge.