You know what's "Out of Bounds?" Keeping Taylor on Major Crimes.
This week we not only had to suffer through his presence, but his imprint was all over the case of the week. He chose to make the case a major crime strictly because his son attended the high school of the victim. 
Immediately turning into parent of the year and taking what looked to be a regular road rage case, he turned up the heat between the "blacks and the browns." That was the very thing he was trying to avoid, but he didn't have a problem stirring the pot. Yes, the crime was more than regular road rage, but does anyone doubt our crack squad would have figured that out without all the unnecessary gang play?
I don't. Not for a minute.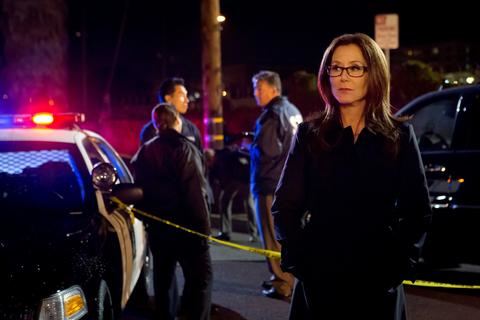 Before I continue on with the case, let's talk about Sharon and Rusty. Every scene between them becomes more familial and interesting. Rusty did research on his dad, the brother of a cocaine dealer, and discovered he's a mortgage broker. He immediately decided that must be bad (right?). I wish it was as easy for someone with Sharon's strength to take a kid like Rusty off the street and give him a place to call home, because, seriously, I'd consider it.
He's such a good guy, and so worried about being loved. When he cooked breakfast, it was so obvious, even to Sharon, that he was worried Sharon might want him to move out. She had already said she would miss him if he did, and only wanted him to know his father because he needed to know family, but it's good to see he already feels such a connection with Sharon. It was such a huge decision for Rusty to decide against his biological father and choose Sharon, but it worked better than I imagined.
To continue on with Taylor's vanity case, let's just get right to the good stuff. He could have killed Sykes. Yes, she was difficult to take, but she was growing on us. I couldn't possibly explain what happened any better than Provenza did in this conversation with Sharon:
Provenza: Look, this is one of the big differences between running internal affairs and working homicides. You send people into seriously difficult situations and they go because it's their job, and Sykes did that job today. Damn well.
Sharon: But lieutenant, what did I miss? I thought...it seemed like we had the situation covered.
Provenza: We're never covered. You have a partner, you have a gun, you have a camera, you have SIS, and a vest and dogs and patrol cars out the ass and people still get hurt. Sharon, there is no defense against bad luck. And we can't even take the time right now to properly consider Amy's misfortune because we have a murder to solve, which I'm sure is what Chief Taylor has come to remind us of.
Taylor: I have. | permalink
Here again we have the incredible character growth bestowed upon our former secondary characters from The Closer. We've seen, in extremely short order, Provenza go from being angry, to annoyed with Sykes, to taking on a kidding sort of relationship with her to being the first one to go to the hospital when she was injured. Not once have I doubted the journey of Provenza and Sykes. 

Sanchez was partnered with Sykes when she was injured, and the man who hurt her did not get off easy after taking her down. The new Julio Sanchez kicked the crap out of the guy who hurt his partner, and nobody batted an eyelid. 

We've battled over who is the heart and soul of major crimes, but I think we've got a very close tie between Sanchez and Provenza at this point. They are, quite frankly, blowing me away; as written and as portrayed by Raymond Cruz and G.W. Bailey. 

Somehow, I know some of you are still going to tell me you're not on board. I'd really like to know why. I didn't expect to feel so incredibly connected to Major Crimes as I thought Brenda was integral to the success of the department. I can admit when I was wrong. My hope is that the viewers feel the same, because I'm starting to feel a little nutty! Sound off...even if only to make me feel sane. 

Carissa Pavlica is the managing editor and staff writer for TV Fanatic. Follow her on Twitter and on Google+.

Tags: Major Crimes, Reviews