Tonight is a good night.
After a long drought, we were treated to a pair of hilarious episodes. If you read my review of the Season 2 premiere, you know that I was a little nervous heading into the first episode of the fall.
I wanted... no, needed, it to be funny. My Tuesday nights have been so sad without you, Schmidt!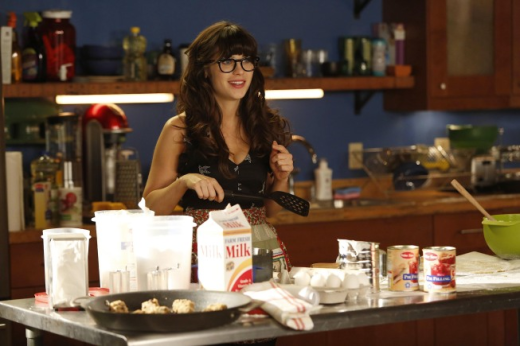 After a great kickoff at 8 p.m., "Katie" kept New Girl riding high.

Still unemployed, Jess is trying to find things to do with her time and in this episode, those things happen to be men (after a failed attempt at art and cooking). Mistaken identity is the name of the game, and Jess has no problem lying when a handsome stranger, Sam (David Walton), thinks she's his CupidMatch date. All true love comes out of a fake mutual appreciation of Creed, right?

Josh Gad is perfect as the lovable but kind of creepy Bearclaw. He almost stole Schmidt's spotlight of having the most lines on the New Girl quotes page. But it's hard to top Schmidt when he's combining basketball and sex metaphors to hit on Winston's sister.

Meanwhile, Nick thinks one of his customers at the bar is him from the future. Even though Old Nick turns out to be a crazy homeless man, I love that New Girl is the kind of show where you can have wacky sitcom relationship plots going on and, in the same episode, legitimately entertain the idea that a character might actually be a time traveller.

But what does Nick have to be sorry for?!? Are he and Jess going to get together and then break up? Will he pee all over her clothes? What a great seed to plant so early in the season. Now I'll be watching every week wondering if this is the episode where we find out.

What do you think is going to happen between Nick and Jess?

Tags: Reviews, New Girl
Want more New Girl?
Sign up for our daily newsletter and receive the latest tv news delivered to your inbox for free!
More From TV Fanatic
Luke Perry guest stars as a TV star and murder suspect in the latest Major Crimes. Read about all the fun!
On Switched at Birth there are a lot of awkward moments as Bay helps Tank with his father and Toby tries to stand up for Sharee. Read on for more!
Join us for the rewatch of One Tree Hill Season 1 Episode 3. Ready to rundown this fun installment?
This week on The Last Ship, Danny gets sick and the crew begins to panic. Is it the virus? Meanwhile, Rachel's vaccine trials continue to fail.
---