New Girl Season 2 Premiere Review: Playing With Fire
by Lindsey Kempton at .
I have to admit that I was nervous about watching "Re-launch." New Girl featured some ups and downs last season and I really, really wanted Season 2 to kick off with a lot of laughs.
I wasn't disappointed.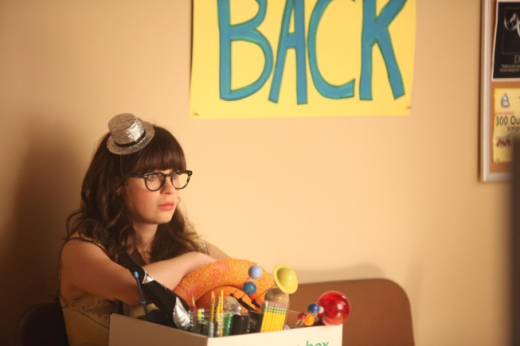 I loved "Re-launch."

The first jokes felt a little forced to me, but then New Girl fell right back into its rhythm of absurdity. In fact, it went back to where the whole series started – Jess finds her life turned upside down, but this time it's not because of a wandering boyfriend; it's due to losing her job. Jess' response shows how much she's grown since the pilot. She does a little moping, but with a little help from Nick and his grumpy old man talk, she pulls herself together enough to convince Schmidt to employ her as a shot girl at his rebranding party.

Both of these things - Jess as a shot girl and Schmidt's rebranding party - are misguided attempts to convince themselves they're both bouncing back and totally fine. A new man without his penis cast, Schmidt wants to show off for the ladies, but really it's all for CeCe. Of course, nothing goes according to plan, and I couldn't stop laughing. Check out the New Girl quotes page for some of the best lines of the night.

Parker Posey was fantastic as the kind of scary second shot girl and Nelson Franklin portrayed the perfectly mediocre Robby, Cece's new love interest, wonderfully. Disappointingly, and as usual, Winston recevied some good lines but no real plot.

I can't quite decide if Nick and Jess have picked up their relationship where they left it in last season's finale. It seems their chemistry has cooled a little bit, but they support each other more than any other members of the loft and definitely have a unique friendship. What do you guys think? Were their sparks in "Re-launch" besides the ones in Schmidt's fire show?

But New Girl isn't done yet! Season two opens with two episodes. Check back here in one hour for my review of episode number two!

But first, what did you think of New Girl's premiere?

 

Tags: New Girl, Reviews
From Around the Web