Scandal Exclusive: Kerry Washington on Season 2 Premiere, New Cast Members and Twitter
by Miranda Wicker at . Comments
With the Scandal Season 2 premiere set for tomorrow night, buzz about the show that left everyone's jaws sufficiently dropped with its season one finale is getting louder and louder.
After watching an advanced screening of the episode, I had the chance to talk with Olivia Pope herself about Cyrus Beene, Quinn Perkins and the show's upcoming arcs. As Kerry Washington teased:
"We've got a lot going on this season."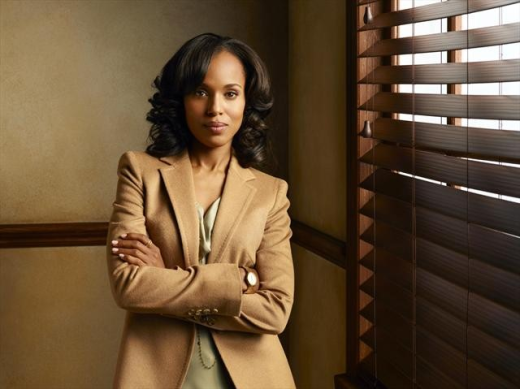 Things have changed at the offices of Pope & Associates. Both Bellamy Young and Josh Malina have been bumped to series regulars while Henry Ian Cusick's role of Stephen Finch has been written out. With Stephen gone, "the politics within the office itself is getting more complicated. That's a really fun part of this what's going on so far this season," teased the actress.

Of her new costars, Washington added:

"I'm so excited because they're such important parts of the show, and they're both just destroying it... We're already at episode 5 or 6 and it's beyond! The work they're doing is so inspiring and stellar and fantastic."

Naturally, I had to ask about Quinn Perkins and where this story takes Olivia and David since the finale made it clear that they're on opposite sides of this particular scandal.

Washington is as intrigued by the story as the rest of us.

"It's pretty fascinating. I love it because the season ended with [David] asking the question. The only three people at the end who know who Quinn is at the end of Season one are Olivia, Quinn, and David Rosen. So, you know, he definitely is fundamental to that story line."

While we won't have to wait long to find out Quinn's real name, as I teased last week, we won't get all of our answers in the premiere, but Washington did advise: "It's definitely worth the wait for the Quinn Perkins thing."

One of the traits that makes Scandal such a riveting drama is the plot twists that viewers don't see coming. The cast doesn't usually see them coming, either.

"The thing about working for Shonda [Rhimes, executive producer] is that you don't get an outline for the season. You have no idea what's coming up. As shocked as the fans are week to week, that's how we feel when we're reading them and shooting them. So we totally relate to the feelings of anticipation and surprise."

At the request of a few viewers, I asked Washington about the impact social media, Twitter specifically, has had on Scandal.

"Because we get the script week to week and we have no idea what's coming and sometimes when something really shocking happens in a script and were shooting it, we think 'Oh my goodness! This is going to be so fun to read on Twitter when people are watching the show! They're going to be so shocked!' We think about our interaction with our fans on social media and we're excited for people to be as thrown for a loop as we are week to week. We're excited to share that and we're excited that we get to be a part of the revelatory moment because of our fans on social media."

While I couldn't get Washington to give up any deep dark secrets, she did want to issue a note of thanks.

"We're so grateful to our fans on the show. It is because the fans tuned in and because the fans tweeted and the fans encouraged other people to watch - our fans are the reason we have a second season and we're so indebted. Our family of Gladiators online really inspires us to do our best."

Scandal season 2 premieres Thursday, September 27. Be sure to watch and then come back to tell us what you thought of "White Hat's Off."

Miranda Wicker is a Staff Writer for TV Fanatic. Follow her on Twitter.

Tags: Exclusives, Interviews, Scandal, Kerry Washington