Castle delivered its second episode of the season, "Cloudy with a Chance of Murder," and it stayed true to the typical Castle formula of zany, funny and sexy. Pretty much... perfection.
The hour centered around a murdered weather girl for the local news who was involved in investigating a chemical being released in a New Jersey town. Twists and turns took us through possible affairs, competition at work and partners. Turns out she was helping a co-worker on the story and had decided to take it to the EPA instead of letting him get the exclusive.
What kind of work drives you to kill your partner?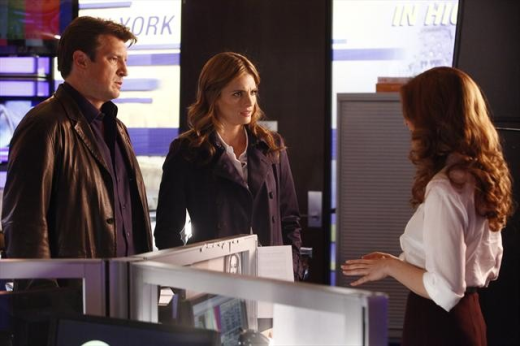 While down at the news station, Castle ran into an anchor he had previously met and she asked him on a date. Talk about awkward! 
First, how aggressive was Kristina? Although she was quite beautiful, this is not the kind of girl Castle would ever date or even pretend to date. Having Beckett run in to the apartment and catch her on top of her man was hilarious. 
Guess what bromance is back in action? After getting punched by some security guards, Ryan and Javi buried the hatchet. Finally! These two are so enjoyable to watch. Their friendship feels genuine and needs some more screen time. Anyone else agree?
Lanie also made an appearance! Although it was quick, our favorite coroner showed up just in time to detect that something was going on with Beckett. You have to love the girls intuition. She has always been on top of the Caskett situation.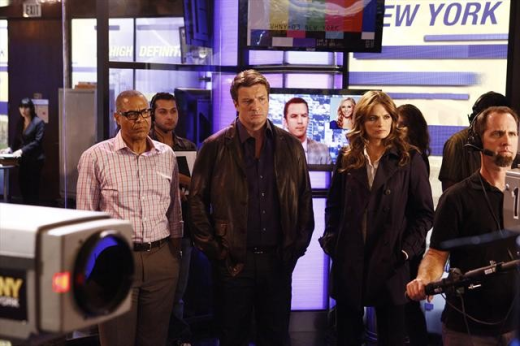 Okay, so it only took four years, but how much fun is Caskett as a couple? I had impatiently waited for this day, but it was totally worth it. The relationship feels natural and the couple seems comfortable with each other. Plus, they are too funny together. 
The case of the week conveniently dealt with the discussion of inter-office relationships. How big of a problem could this turn out to be? What happens if you break up? Do you switch to a different area? These are all questions that could make for great arcs for this couple - although the writers better not break them up anytime soon! 
So, who will be the first to figure out about the new relationship? Lanie? Espo and Ryan seem pretty oblivious to it. Martha and Alexis will be able to tell something is going on. Castle fans, make your guesses. Which one of these characters will be the best detective when it comes to Beckett and Castle?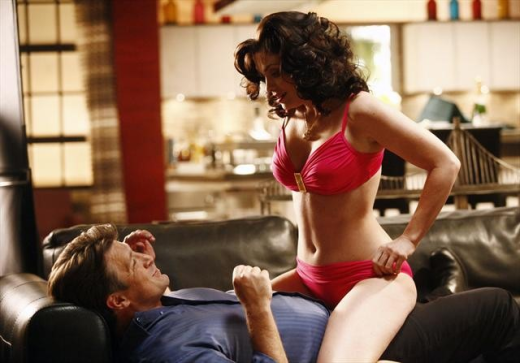 Overall, a solid episode from the series. There were some pretty great Castle quotes from the hour worth checking out.

Hit up the comments section and let us know what you thought of "Cloudy With A Chance of Murder." How did it compare to the season premiere? Just as good or a bit of a let down? Finally, don't forget to check back for the TV Fanatic later this week for the official Castle Round Table.

Tags: Castle, Reviews
Want more Castle?
Sign up for our daily newsletter and receive the latest tv news delivered to your inbox for free!
More From TV Fanatic
On Perception, Daniel and Kate investigate an art heist. Also, Daniel must make a decision about his love life.
Things on Pretty Little Liars looked pretty darn bleak this week as Hanna's friends started to get sick of her but Zack couldn't get enough. Read the review for more insight into the latest installment!
Evan, Paige and Bob confront Russel about his rug theft, while Divya and Jeremiah treat a woman desiring to be a mom. But were those all the surprises the Hamptons had to offer? Read our review of "I Didn't See That Coming" now!
On Chasing Life, Leo makes wishes come true. Elsewhere, Brenna meets her other sister, discovering one more family secret. Read on for more!
---