We've had a few days to dry our tears after Thursday night's break-up centered episode of Glee. Our hearts will go on, right?
Join our Round Table panel of experts - TV Fanatic readers Suzanne Davis and Suzanne Brown, TV Fanatic staff members Leigh Raines and Miranda Wicker, and Maria Julia Nevis from GleekDail - -as we break down "The Break Up" and look toward the show's return on November 8. Sound off below with your answers to this week's questions...
------------------------
What was your favorite scene from the episode?
Suzanne D: My favorite scene was Rachel singing the duet while Flynn watched. His face was just fantastically sad and confused.
Suzanne B: The best scene was Blaine showing up, forcing them to figure stuff out. And the breakup scene had gorgeous NY background and lighting. No Doubt's "Don't Speak" was a perfect song choice for that scene.
Leigh: I think this was the best episode of the season. The final scene with everyone and the flashbacks was beautiful.

Miranda: This WAS the best episode of the season, Leigh. It even eclipses almost every episode from season 3. So I'm going with I loved ALL of it equally except for the left behind scene at Breadsticks. That was way too much setup just for Brittany to say how she felt.

Maria: Definitely the Finchel scene in the auditorium. The parallel of this place being where they had their first date in the very beginning of the show, where he proposed to her in season 3, and where she broke up with him is great. Also, Lea Michele's acting in this particular scene was phenomenal.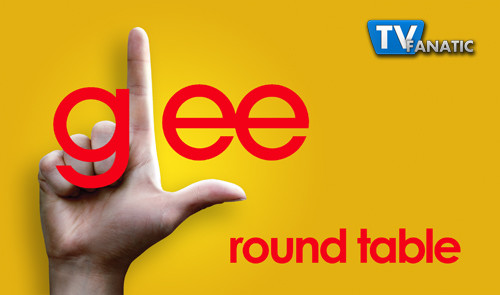 What was your favorite song?
Suzanne D: I liked EVERY song, which is saying a lot since I hate Coldplay. "Teenage Dream" is one of my all time favorites (I bought the Warbler's version on iTunes) but I think I made a sound out loud at "Don't Speak." It pretty much DEFINED all my breakups in high school.

Suzanne B: Blaine's "Teenage Dream" reprise is my favorite song. The Warblers singing that song seasons ago gave me Glee fever and Blaine's solo is so memorable.

Leigh: In real life "Mine" is my fave, but their rendition of "The Scientist" was amazing. "Nobody said it was easy, no one ever said it would be this hard, oh take me back to the start." -one of my favorite lyrics.

Miranda: "Mine." As Santana was singing it I kept thinking "Damn! Naya Rivera's KILLING IT!" And she did. Close second is "The Scientist" because I love Coldplay and that was such a well-done scene in general.


Maria: Coldplay's "The Scientist" for sure! Everyone singing it while flashbacks of the four couples were showing made me almost tear up to say the least.

Jake mysteriously left Marley standing at her locker. Where did he go?
Suzanne D: I sort of figured he flaked out now that he was single and is going to come back with "Oh I'm just so damaged and emotionally unavailable and I like you soooooo much I don't want to screw this up." If I'm right, do I get paid for writing this show?


Suzanne B: I have no idea why Jake left but I'm so glad he broke up with evil, crazy, left behind Kitty. I'm #teamMarley!

Leigh: Jake had a surge of confidence and then went to silently freak out when it was over. Kitty sucks. The rapture scene was a waste of my time.


Miranda: He did casually mention that he's taking dance lessons. Maybe he also volunteers at homeless shelters during his spare time.


Maria: I would say he went to chase Kitty to explain to her what's going on between them.

Hearts were broken. Which couple will you miss most?
Suzanne D: Blaine and Kurt for sure. Rachel and Flynn have to break up so they can dramatically get back together in the last episode. It's what TV Rachels DO.

Suzanne B: I think I'll miss Blaine and Kurt. They were cute together and I loved that Glee made a gay couple cute and normal and real.

Leigh: Tie between Finn and Rachel and Kurt and Blaine. I feel attached to both storylines.

Miranda: There's a lot of Blaine and Kurt love in this room right now. Like I said in the review, that's the couple I'm pulling for.

Maria: As much as I love all the couples, Brittana will be the one I'll be missing the most.

What are you hoping for when the show returns in November?
Suzanne D: More awesome songs. Lots of Grease mash-ups. Puck to come back. And more New York with newly unencumbered Rachel.

Suzanne B: I didn't think Rachel and Finn would make it. I'm interested to see how they incorporate Finn in the show though with them not together and where Rachel and Brody go.

Leigh: Grease is the word :)

Miranda: Grease IS the word, Leigh. It's got groove! it's got meaning! I hope we get more Puck, definitely, but I'm also excited to see Blake Jenner, winner of season 2 of The Glee Project, make his debut. He was pretty talented and not bad to look at, so I hope they do good things with him.


Maria: I hope to see how Rachel and Kurt will be in NYC after the break-ups, what's going to happen with Will and Emma and with Brittana as well, and what Finn is going to do with his future. In Lima, I'd like to see more of Jake and Marley's relationship, and Blaine and Sam's friendship. I'm also looking forward to Mike, Mercedes and Quinn's return! And as a big fan of the musical, I'm very excited to see the Grease tribute too.

Tags: Glee, Round Tables