I really loved "Suspicious Minds" for two reasons:
I absolutely adored the relationship growth between Zoe and Wade.
We spent plenty of time with Lavon and Lemon. 
In case you didn't know, Lemon and Lavon are my favorite pairing on the show and Cress Williams agrees (as he told me in a interview a few weeks back). Seeing them featured so prominently made me extremely happy Dixie fan.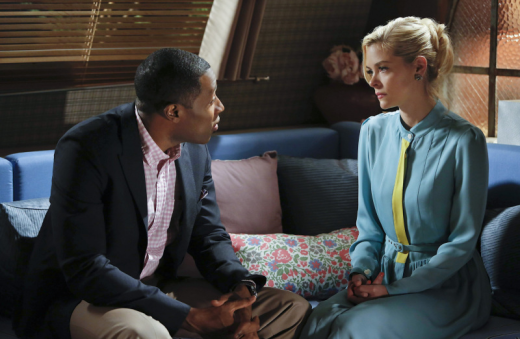 Before I get to Lemon and Lavon, let me talk about everyone else first. 

Starting with Brick and Magnolia, as they tried to figure out what it's like to live without Lemon. This is the first time we see just how much they depended on Lemon and her contributions to the Breeland family. In the midst of their struggles, we enjoyed some great comedy. Watching Magnolia turn the laundry purple and survive off of peanut butter made me laugh harder than it should have. Obviously she is spoiled, especially when she said to Brick, "I meant making me do stuff, you should know better."

Loved it. I hope we get more of this in the next few episodes as they learn how to adjust. 

We saw just how George remains the sweetest guy on this show. First, he didn't know how to break up with his girl and so naturally he went to Wade, who gave him horrible advice - and he listened!

He tried to so hard but he didn't want to hurt her feelings and in the end he was slapped across the face. At least the she's gone. The most adorable scene  was when he rushed to Lemon to be there for her after he thought she was pregnant. The scene ended with him giving her his apartment, how great! For the first time in the series I actually felt like I wanted those two to reconcile. I hope this feeling passes, I'm on team Lemon/Lavon.

Here is the part of my normal review where I take a paragraph to talk about how much I love Ruby. I still love her and the bad things she is doing to help our favorite characters grow. My favorite thing about Ruby is the fact that Lemon absolutely hates her. This is refreshing from the usual plot line where Lemon hates Zoe; it's nice to see it placed elsewhere. It is because of this hatred that Lemon is being forced to grow into a strong independent woman. It's also helping Zoe and Lavon grow and learn. Keep it up writers, it's working. 

I would like to say, "hello grown up Wade." This casual sex thing is obviously going to turn into a relationship because they've made a deal to only sleep with each other. Does anyone think this is a good idea? That it won't blow up in their faces? It's TV, things can't be perfect all of the time. For now, I like where they are at and I like Wade in a more grown up role, that is the kind of guy Zoe deserves to be with.

Now let me get to Lemon and Lavon. The first scene between them - where Lemon is under the impression Lavon hired her when he actually didn't - was very comedic. It was also a chance for the writers to show you that these two have chemistry, as friends, and can remain a strong dynamic in the show. 

Then there was Lavon taking the fall for Lemon. This is the arc around which the episode was centered. Jaime King and Williams are great together. They make it so easy for me to want more and more of these two.

When Levon told Lemon that she was the kind of woman that could have a family and a career, it made my heart soar! I love these two starting out as friends right now and I hope to see this dynamic grow stronger and evolve as this season goes on. I really hope they can rekindle what they had in the past and have it be stronger than before.

How about you guys, do you love Lemon yet? If not, you'll get there. She is turning into a phenomenal character and I am along for her journey, I'm hooked. 

Tonight's episode showcased all of the things that Hart of Dixie can do great, which is some comedy, drama, sex appeal and funny banter. Zoe had some great lines in this episode, check out the Hart of Dixie quotes for this episode to see what I'm talking about. Here's a hint: lions. 

Until next week! 

Tags: Hart of Dixie, Reviews