"Lana I Ka Maona:" Adrift
For all of us who have enjoyed the "bromance" moments and the "carguments" over the last three seasons, this week's Hawaii Five-0 episode gave us something we have been hoping for for a while. Steve and Danny. Hanging out. Just the two of them.
Of course, given that the time they spent together included being boat-jacked, stranded at sea in a sinking dingy, chased by sharks and finding a crime scene at sea, maybe they want to actually relax a bit next time. Still, you have to admit the two of them on the ocean created some of the best Hawaii Five-0 quotes we've enjoyed this year.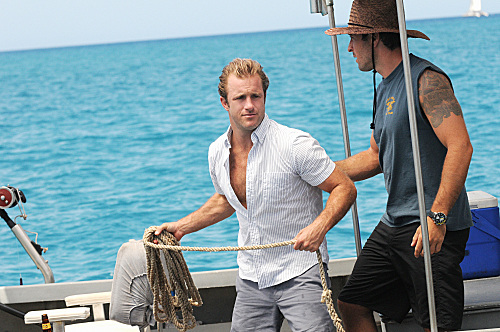 Long time viewers know that Danny has not been a big fan of the ocean. Learning that Danny's childhood friend drowned trying to help him explained a lot about his dislike, but also some nice info about Danny himself.

This was one of the first glimpses we've had into Danny's childhood. I hope we get a few more. We know a lot about Steve, while Kono and Chin talk about being kids fairly often. The same can't be said for this snarky character.

I'm also thrilled that this installment was better put together than the last episode. The pacing was well done, action was consistent - and watching Kono take down Scates and then handcuff him to the rail was pretty awesome. My only confusion was Catherine coming along with Chin and Kono to raid Scates' apartment. 

When did Catherine join Five-0? Why would a Navy communication officer have a bullet proof vest and gun to wear off duty to a crime scene? I can see an ex-Navy Seal like Steve having that type of gear, but Catherine is not a Seal... unless I missed her being reassigned. 

The irony is that Michelle Borth fit right in with Kono and Chin and would make a great addition to the team. Except for that whole sleeping with Steve thing, which might be awkward around the office the next day. 

Finally, how long did it take Lost fans to recognize the actress playing Katie Burgess as Cynthia Watros, who played Libby? It was good to see another former Lost alumni on the show – albeit briefly. Speaking of on the show again, here's hoping that Steve's mom returns soon, as I really want to see more of Doris McGarrett in action. 

Jim G. is a TV Fanatic Staff Writer. Follow him on Twitter.

Tags: Hawaii Five-0, Reviews