"Kanalua:" Doubt.
Know that I don't say this lightly: This was one of the worst episodes of Hawaii Five-0 I have ever watched. After last week's stellar Season 3 opening I'm absolutely appalled at how this episode went down.
I'll explain why...
August March: After waiting months for the return of Ed Asner as August March, I'm most disgusted with how his departure was designed. This is a man who has always thought two steps ahead of two generations of cops. Yet he decides to punch his own ticket by stepping into traffic. Seriously?!? Why were there not cops escorting him? Why was he allowed to just step out of the car on the passenger side and stroll across the grass into the path of a truck? Come on!
Catherine Getting Info: I'm all for Catherine using her feminine charms to get stuff from guys, that's to be expected from the hotness that is Michelle Borth. But what self-respecting Naval Officer is going to hack into the WITSEC computer database by stealing the password from some poor schmuck in a bar?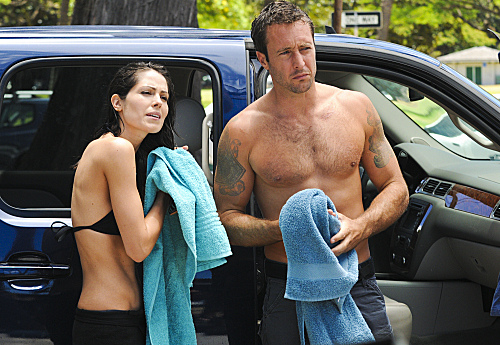 Ridiculous Computer Security: Speaking of getting info from some poor schmuck at a bar. First, the Government requires numbers, letters and a special character in all of their passwords. Second, I can tell you that none of my passwords have anything do with my childhood pet, family street or anything to do with me growing up. So between those two things, you are not going to hack a government database by asking a guy his life story over pool and randomly plugin random words he said.  

Muddled Case: From the art theft, to the suspect dying, to the getaway driver being murdered, to it all leading to a kidnapping... it was just too much. I wasn't attached to the art, or the car driver, and only cared about the girl because she was a kid. Hell, I never even figured out what August went to ask the fence for since he was the one who shot the brothers with the same gun he used last time. Add to that mix Chin Ho dealing with Malia's death and Catherine stealing government passwords, and it becomes one giant pile of what I like to call "A Hot Mess."

Speaking of Chin Ho, the only decent part of this episode was Chin-Ho's dealing with Malia's death. The funeral was beautiful, and then he and Danny talking at the end was a great moment. I was glad to see Danny step-up and be a friend and family for Chin-Ho; if anyone knows how alone he might feel it would be Danny. 

But in the end, one good portion of an episode can not offset all the bad. Oh, and don't even get me started on Kamekona new "venture" or the  lift and thrust ratios of the average touring helicopter – we will be here for days! GAH!

Here is hoping that next week we get back to a decent story plot and we get more information on Doris still being on the island. For now, I'm going to see if I can find some brain bleach to wash this episode from my mind. 

Jim G. is a TV Fanatic Staff Writer. Follow him on Twitter.

Tags: Hawaii Five-0, Reviews
Want more Hawaii Five-0?
Sign up for our daily newsletter and receive the latest tv news delivered to your inbox for free!
More From TV Fanatic
On tonight's The Bridge, the search for Eleanor continues. Will she kill again before she's found?
On Extant, Molly reveals her pregnancy to John. However, Sparks' story isn't exactly a plausible explanation.
On Graceland, Mike, Briggs and the team pull out all the stops to get Paige back. Read our review of "The Unlucky One" to find out if they were successful.
On Suits, Rachel and Jessica's life choices seep their way into the business of the men in their lives, some of which only cause more problems. Read out review of "Litt the Hell Up."
---