Tonight marked the Private Practice 100th episode and, like most milestones, it was over far too quickly.
Although "Mourning Sickness" was mostly about saying goodbye to Pete, I found myself constantly wishing he was still around. Then again, maybe that was the point: to miss Pete just as much as his patients and colleagues did.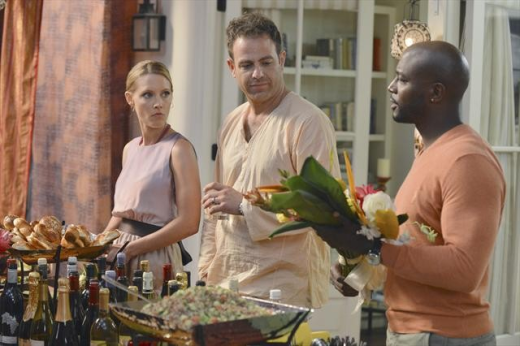 Pete's last wishes were for a Balinese send-off that included singing, laughing and stories in celebration of his life. Thanks to a karaoke machine and even some pot, there was definitely some crooning and lots of laughing. And the stories? Well, patients couldn't stop trying to make Violet feel better by telling her story after story about how amazing Pete was to them.
For the most part, Violet was able to keep her cool. With both Cooper's and even Mini Cooper's help, she was able to step away from the party to miss Pete silently alone. It felt like such a long time ago when Cooper and Violet were the best of friends. I liked seeing them that way again. The very last scene with Violet saying her final goodbyes to Pete was beautiful.
With Pete no longer by her side, Violet asked Cooper to take care of Lucas in case something were to happen to her. He hesitantly said "yes" while knowingly hiding Charlotte's trio of "Cooplets." Cooper may have worried Charlotte would be against it, but I knew better. Charlotte is that amazing, and sometimes I think that Cooper forgets.
By the way, how absolutely hilarious was Charlotte? Check out the Private Practice quotes section as she stole the episode with numerous lines that left me laughing out loud. I seriously love that girl!
Elsewhere, Sam and Addison danced around words involving espresso about whether or not they were friends or could be. Then, Addison received the phone call that Grey's Anatomy fans had been curious about since last week. She found out that Mark Sloan, better known as McSteamy, was taken off life support. After the realization that both Mark and Pete were gone, Sam and Addie agreed they would be friends eventually again because life is too short.
Like most fans of both shows, I feel like there was a missed opportunity for a crossover and am curious to see if and how Addie will grieve Mark's loss. Also, will she rely on Jake to help her get through it?  
Meanwhile, Sheldon missed most of the party as he was helping a patient who was fantasizing about young girls and felt the only solution was suicide. I found this case very disturbing and random with the other ongoing storylines; however, I was eventually glad to see that Sheldon saved the day and got his patient to the emergency in time and was able to show the patient that he could change if he let himself.
Other Thoughts
There's no need for a Violet Annoyance Scale this week. Also, kudos to Amy Brenneman on an incredible performance!
Violet wants to move forward and is putting her house on the market. Let's all say it together: FINALLY!
Addison asked Amelia to be Henry's guardian. I couldn't have imagined it any other way.
Overall, I really liked this episode. It was the perfect way to follow a strong premiere. See you later this week for our Private Practice Round Table.

Tags: Private Practice, Reviews
Want more Private Practice?
Sign up for our daily newsletter and receive the latest tv news delivered to your inbox for free!
More From TV Fanatic
Evan, Paige and Bob confront Russel about his rug theft, while Divya and Jeremiah treat a woman desiring to be a mom. But were those all the surprises the Hamptons had to offer? Read our review of "I Didn't See That Coming" now!
On Chasing Life, Leo makes wishes come true. Elsewhere, Brenna meets her other sister, discovering one more family secret. Read on for more!
Join us for the One Tree Hill Rewatch of Season 1 Episode 4! Ready to relive the fun drama?
Power struggles ensue all around Chester's Mill on Under the Dome. Lives will be put on the line.
---