Supernatural Set Visit: Jensen Ackles on Dean's Return from Purgatory and Relationship with Sam
by Carla Day at . Comments
When we last saw the Winchester brothers, Dean was stuck in Purgatory while Cas was leaving Sam all alone. Indeed, the Supernatural finale left their futures uncertain going into season 8.
Last week, TV Fanatic headed up to Vancouver (trip provided by Warner Bros TV) to visit the Supernatural set and get the scoop on the upcoming season from Jensen Ackles, Jared Padalecki and Misha Collins. 
First, we spoke with Jensen. In the following video, he discusses Dean's time in Purgatory, what it was like to get out and the new relationship between Dean and Sam.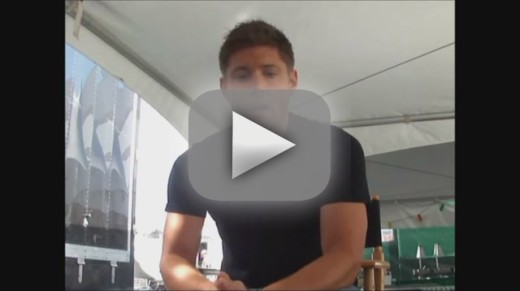 While in Purgatory, Dean had to deal with all evils that he had previously fought with his brother. That experience left him a changed man, as Jensen explains:

"[Dean's] come back a hardened warrior, and ready to use those sharpened skills in the real world. So he's a soldier that just got back from war. It's going to take him a little while to adjust to the lack of threat, and the lack of combat...

"... [Dean] was down there for a whole year doing this. Fighting and battling non-stop, covered in blood, covered in mud, covered in dirt for twelve months. Now he's back topside - he's got his car and he's got his brother ... It's like, wow - I didn't realize how easy I had it up there."

During their year separated, Dean and Sam lived very different lives. Dean's was full of fighting, while Sam fell into a normal life. This dichotomy between their existences will cause a rift in their reunion. 

"...it's going to take a little bit of time to warm up to the relationship that he has with Sam." Jensen says. "There's also what Sam did for the past year, which compacts the odd element that these two brothers have not only spent time apart - it's what they were doing. Dean was in this concentrated war zone, and Sam was literally just the opposite. So it really - these two brothers have really been living two different lives this past year, and now they're having to come back together and pick up where they left up. It poses a bit of a problem." 

The way Sam spent his year is going to upset Dean, but the Winchester brothers will never be separated for long, Jensen reassures: "But at the end of the day they're still brothers, they still have each others' back, it would take way too much to break that."

Supernatural returns for its eighth season Wednesday, October 3rd at 9 pm ET. Make sure to stop back throughout this week for the other cast member interviews and for our weekly Supernatural reviews and Round Table discussions.

Carla Day is a staff writer for TV Fanatic. Follow her on Twitter and on Google+.

Tags: Supernatural, Jensen Ackles, Interviews, Set Visits