The Big Bang Theory Review: Girls vs. Guys Game Night FTW
by Carla Day at .
The Big Bang Theory was awesome tonight! The season started a bit weak in the laughs, but tonight's episode made up for it. It was comedic platinum.
"The Re-Entry Minimization" was by far one of the funniest episodes in a long time. Howard's return from space had some great moments, but it was the girls vs. guys game night that had me in non-stop chuckles.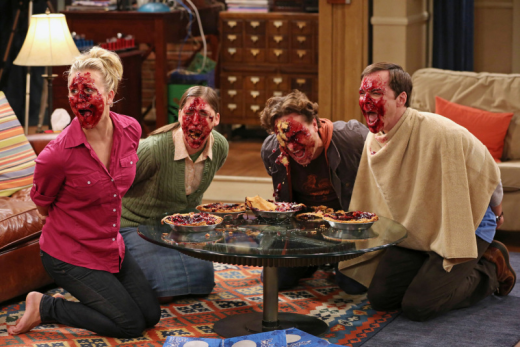 I actually laughed so loud after Sheldon went up to the flip chart to do long division that I thought my neighbors would hear me and think I'd lost my mind. It was a pleasant turning of the tables with the girls, especially Penny, being better than the intellectual guys.

The show returned to what it does best -- putting the characters in real-life situations and just letting them be themselves. No relationship issues, no contrived drama, just funny situations. 

Is it present or present? Is it polish or Polish? Sheldon's inability to clearly communicate through drawing was hilarious, especially since he's not that bad an artist. I'm not sure why Leonard didn't look at the girl's board to solve it. An odd set-up for the game, but it worked.

All the contests worked from Where's Waldo?, to dizzy long division, to wrestling, to the ending pie-eating contest with Sheldon getting a berry up his nose. Besides, Sheldon versus the flip chart, my favorite moment was when Penny pinned Sheldon to the ground and started kissing his face with Amy joining in.

Poor guy! Most men would love to have a gorgeous girl pin them down and kiss their face, but not Sheldon! 

As bad as Sheldon must have felt continually being beat by the girls, Howard had it so much worse. He had the biggest accomplishment of his life and instead of a hero's welcome home, he got nothing.

Bernadette was sick, his mother was "occupied," and then his friends deserted him. Howard's best friend has a new bestie in Stuart. And, lastly, his friends yelled at him through their blueberry coated faces. At least he got some free cheesecake, right?

There were quite a few hilarious moments, check out some of them in our The Big Bang Theory quotes section.

Which game made you laugh the most?

Carla Day is a staff writer for TV Fanatic. Follow her on Twitter and on Google+.

Tags: The Big Bang Theory, Reviews
From Around the Web