The Mindy Project Review: License to Drive
by Chris O'Hara at .
Fall has settled in on The Mindy Project, but while the leaves and the lattes may have changed, the quality of laughs the show induces has not.
"Halloween" set the stage for a big nighttime date between Josh and Mindy, but also had her asking why must a woman choose between hot and funny when it comes to costumes. Her indecision as to what to wear sort of mirrored the direction this episode wanted to go at times, but all in all it was more treat than trick.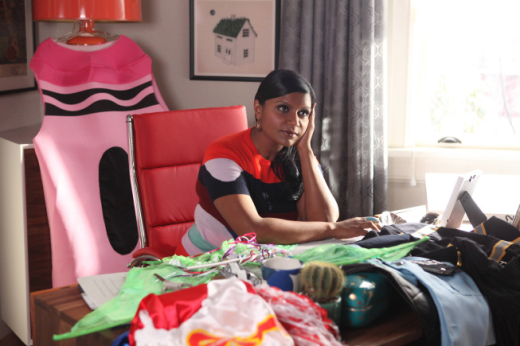 Let's get the business end of things out of the way and discuss the parts of the episode that were on par with the old ladies who handed out change and apples to trick-or-treaters. Another week and yet another pointless scene featuring Anna Camp's character, but this time we also got to meet her equally awkward and overacting daughter.

Seriously, what gives with that whole friendship? 

Next, we had Mindy literally bumping into Tom, her ex-boyfriend who she found out is expecting a baby with the woman whose wedding she ruined. So defeated and doomed to the life of a spinster, Mindy sat home alone until the aforementioned friend's daughter opened her eyes to Linus's unwavering faith in The Great Pumpkin. The ridiculousness of this whole chain of events aside, who claims The Princess Bride as their favorite movie and has never heard of It's the Great Pumpkin Charlie Brown? And saying Indigo is better than Wesley is no open and shut case, mind you. 

Moving on to the episode's saving grace, honk if you loved seeing Danny and Jeremy get their licenses.

A sign that a show has legs is when you find yourself more interested at times in the supporting plots than those of the titles characters. This week Danny provided the best laughs and certainly the best Mindy Project quotes and solidified himself as very funny man in my opinion. From threatening to knock out the teenager on line at the DMV to his moments of disgust with Jeremy, he had me laughing all episode long.

In the end Mindy's costume choice was a classic, and you had to love the lengths Josh went to in trying to find out her favorite movie. He also deserves a nod for trying to skip the party and take things right to the memory foam.

What did you think?  

Tags: Reviews, The Mindy Project
From Around the Web