On "Quicksand," Annie got pulled into a trap set by Khalid.
With Auggie out of the country, she turned to Eyal for help getting out of the sticky situation. Is it too quick to trust Eyal again after his betrayal? Is she setting herself up? Or can she use him to help her?
Because Annie was correct that Eyal sacrificed himself for his agency, she was right to trust him. He cares about her and even left Mossad because of her. It's probably not the best relationship, but they seem to be able to overcome their individual agency's agendas and still work together well.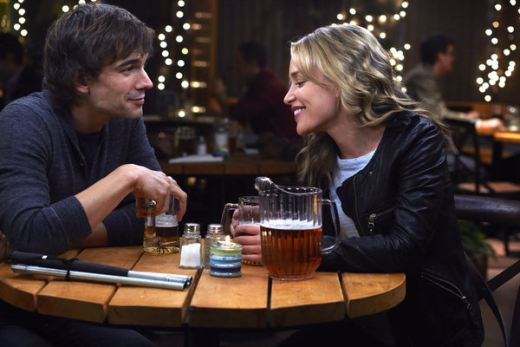 It always comes down to the money, doesn't it? If someone goes underground, they are still going to need cash to put a roof over their head and food in their mouth. However, in Khalid's case, it was much more than that. From 50,000 to 250,000 Euros a week is quite a lot of money. 

I never considered that Megan would be the money courier between Khalid and his father, but it made a lot of sense. What wasn't as clear is why the man watching Annie ended up killing Megan. I assumed he was Khalid's man. If he wanted Annie, why didn't he just take her right at the club? Despite that oddity, Khalid's men found Eyal and Annie at the safe house.

Before they were discovered, Annie showed how much she has toughened due to her mishaps. She came to realize she couldn't save everyone. While I think Annie believed that intellectually, I'm not sure she did in her heart. It was almost as if she was trying to convince herself that she wasn't responsible for Megan. Instead of agreeing with Annie, Eyal told her to never lose her empathy. It was a touching moment for the two of them.

They have been through so much together and it was fortunate that they were able to overcome the divide that Rivka created. Their bond was further cemented when Eyal proved himself to Annie once again. He sacrificed himself so she could escape.

When Annie tracked the beacon to Amsterdam, who was on the other end of the phone? Was it Khalid? Someone else?

The mystery behind Khalid and the drone strike went beyond anything that Annie or Eyal did. How did Henry Wilcox get involved? Arthur definitely has reason to be concerned and to look into the intelligence and the drone strike more closely. Even though Henry said that he wanted to make things right, he shouldn't be trusted. Could he be helping Arthur? Perhaps, but he could just as easily have set up Arthur to take a fall as payback for Henry being put in prison or for Jai's death.

While all that trouble was happening, Auggie went on the Battle Buddies trip to Iraq. This story seemed oddly placed with the rest of the episode, but Auggie's absence was what caused Annie to turn to Eyal for help. It was a nice tribute to the men and women who have served our country and been injured in the line of duty. Auggie and Downey's discussion about the Purple Heart Medal meaning they were both lucky and unlucky was particularly moving.

The trip helped both injured men heal and come to terms with what they had been through.

What's next? Will Annie be able to bring Khalid down? Or is there much more to the story? What do you hope to see in the season finale?

Carla Day is a staff writer for TV Fanatic. Follow her on Twitter and on Google+.

Tags: Covert Affairs, Reviews