The professional life and personal life of Annie Walker changed for good on last night's Covert Affairs Season 3 finale.
What can fans expect from next summer's batch of new episodes, following Annie's new alliance with Henry and game of tonsil hockey with Auggie? Creators Chris Ord and Matt Corman weighed in with The Hollywood Reporter on upcoming storylines and developments.
Read the full interview now, consider yourself spoiler warned, check out the following Season 4 promo and then scroll down for key excerpts...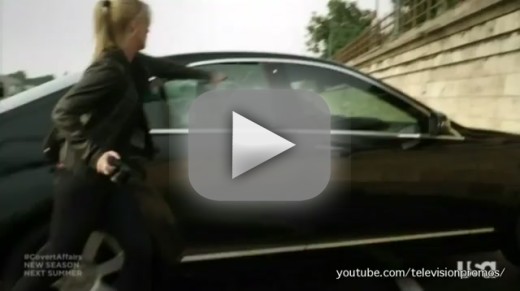 How damaging is the information in Henry's file? "It's going to change her life forever and it's even going to change the trajectory of the show," said Corman. "It's going to change her perception on the world of the CIA and the greater world, and it's going to thrust her into more danger than we've seen to date."

What challenges might Annie and Auggie face? According to Corman: "Any time you have two people are romantically involved and work together, it gets way more complicated than any other relationship. Case in point is Joan and Arthur. We have already in our show a cautionary tale about how difficult it can be to maintain a relationship, and Annie and Auggie's relationship will parallel that of Joan and Arthur's and differ in some remarkable ways as well."

So... will Annie and Auggie be together on Season 4? "That remains to be seen. We want to honor what we set up to a certain extent, so it's going to become far more complicated than they could have even imagined very quickly."

Matt Richenthal is the Editor in Chief of TV Fanatic. Follow him on Twitter and on Google+.

Tags: Covert Affairs, Spoilers