It's Always Sunny in Philadelphia Review: Beef, Beer and Jesus
by Neal Lynch at .
In "Charlie's Mom Has Cancer," The Gang struggles with the fine line between faith and scams. Nothing a little beef and beer and Jesus can't hash out, right?
It's hard to follow up last week's episode in which we got a deep, thorough psycho-analysis of each character's layers, but this week's installment pulled out all the stops in what amounted to a deep, thorough analysis of faith and, to a certain extent, America's grifter reputation.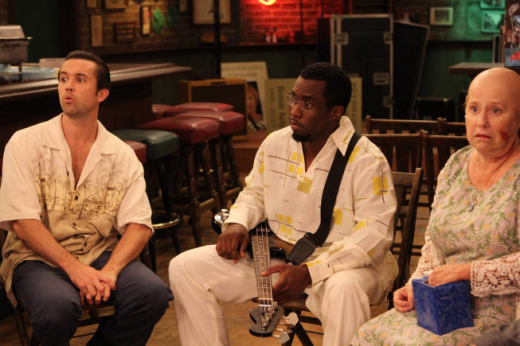 The story managed to cover every suspicious angle and questionable point on the "faith" spectrum, from witch doctors to hokey psychics, churches to property tax. No stones were left unturned.

Each character represented a different degree of faith. Mac is the most stubborn and unquestioning - blindly believing and following his mother and the Church. There is no 'scam' in Mac's mind, heart and soul; his deceptive actions are ultimately for good, to please those who've sold him on the 'faith' ideal.

Dennis opposes Mac with his complete lack of faith and feeling, and openly owning his desire to scam. This is possibly a result of years of believing only to be let down, most likely due to Frank's pranks and grifts. It's become incredibly apparent that both Dee and Dennis have blacked out and/or blocked off many of the traumatic events that took place growing up.

Dee is a shade to the right of Dennis. Like Dennis, she's pretty astute and can openly identify a scam when she sees one, yet she continues to fall for them instead of crafting scams of her own.

To the far left, we have Frank, the penultimate scam artist who, after all these years of duping and fooling, still manages to get the best of those closest to him. 

So, where does Charlie sit on the spectrum? He's still a mystery to me. He was like a child in that he questioned everything and became frustrated with the absurdity and ignorance of each 'adult' institution, yet he remained powerless, subjected to the overbearing nature of forces established and perpetuated long before him.

He's tortured in that he either buys in or gets caught up in scams only to blow them up because he either doesn't fully understand them or he wants to be free of the consequences. This is ironic considering his long con of the girl he dated and banged to make The Waitress jealous just a few episodes before. 

This was some of the smartest writing the show's ever produced. It skewered what many cynics believe is at the core of America's foundation - that we're a country of scammers, looking to make a quick buck. It's a very grave interpretation of a sitcom for sure, but the show's ability to poke fun at what's viewed as America's ugly side serves as a reminder that our country can be funny as hell if you're in on the joke.

PS - P. Diddy as Dr. Jinx? Amazing. The guest stars this year have been huge. 

Tags: It's Always Sunny in Philadelphia, Reviews
From Around the Web