With Laura working at the State Attorney's office, she was eventually going to face off against Lockhart/Gardner. And The Good Wife didn't waste any time in making that showdown happen.
"Here Comes the Judge" featured the season's first criminal case, unless you count Zach's skirmish in another county. With Cary back at the firm, it's nice to have a familiar face for them to face off against at the State Attorney's office. And Laura has shown herself to be formidable. When Amanda Peet showed up as Alicia's client, I hoped she'd be back. She's a pleasant addition to the cast.
Could she be a possible love interest for Will? They seemed to have a spark!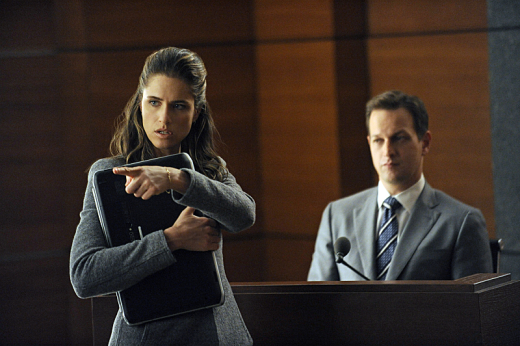 Not that Will needs to complicate his life any further. His suspension may be over, but the repercussions from it are continuing. Judge Creary was inappropriate in his comments to Will at the restaurant, but he may very well have been accurate regarding Will and Will's client. Regardless, that didn't make his words acceptable and he should have been removed from the case. 

At first, I thought he didn't recuse himself because he was too proud and thought he could bully Alicia and Will into continuing under his purview. I never even considered that he didn't remember the exchange with Will. That was unexpected and actually made me a bit sad for Judge Creary. His life was in such a horrible place that he risked what he had left with his drinking.

Judge Dunaway didn't like it, but he had no choice but to rule in favor of moving the case to a new judge. One positive that came out of this situation was that Will proved he wasn't ruthless. His decision to not subpoena Giada showed a softer side. However, he really didn't know if she would tell the truth on the stand or not. Could Will and Giada work out this time? She's no longer his law student...

The case of murdered husband was not interesting. Been there, done that. But The Good Wife did right by presenting a new angle of the law. The trial to substitute the judge for cause held my interest. Despite knowing the judge should be removed, it was never a sure deal. With the new evidence that Laura found with Judge Creary's help, Will's going to most likely take the deal. With their client in jail, will the firm still be hired to oversee her finances? Tough call.

Outside of the courtroom, there was quite a bit going on. Perhaps too much. Grace befriended the dead Grace's ex-boyfriend, Connor, which was just weird from a story perspective. Though, I guess it makes sense in a way. Grace is a caring person and saw that Connor was being ostracized by the other classmates. It just seemed like the writers thought they needed a story for Grace and pulled this one out. I hope it has a good payoff.

While Grace was skipping class with the smoker, Zach was helping out at his father's campaign under an alias. I find this hard to believe. No one at Peter's campaign recognized Zach? He never ran into Peter, Eli or any campaign workers who would know him? With Eli's manipulation, it looks like Alicia will let him help out. It will be good for Zach, though will he end up in a relationship with another campaign worker. Both of Peter's kids are ultimately going to be pulled into the campaign. I don't think there's anything that Peter or Alicia can do to stop it. 

Lastly, we have the dreaded Nick-Kalinda story. As soon as Nick and Cary had a confrontation in the office, I knew trouble was coming. Will Cary's attack be enough for Kalinda to finally cut Nick loose? I hope so. He really needs to go. I miss the old Kalinda and once he is gone, we can have her back!

Are you enjoying the addition of Amanda Peet's Laura to the show? Ready for Nick to leave? What about the kids' storylines? Are they adding to the overall story or just confusing?

Carla Day is a staff writer for TV Fanatic. Follow her on Twitter and on Google+.

Tags: The Good Wife, Reviews