As the episodes have been doing recently, we picked pretty close to where we left off. Which means we had the return of Calvin Schmidt, who was even more whiny this week (if it's possible) than he was last week. 
Speaking of whining (my own this time), I officially hate Olivia Riley, and the reason I hate her is that she is as good as Michael is but doesn't seem to have his moral compass. Don't get me wrong, I know she isn't doing anything illegal, but it seems no matter what Madeline did, she kept destroying her "Best Laid Plans."
Which led to Michael inviting her to go with them on the run to Budapest, or Mumbai, or some other place that's not Miami (yes, I know it was Buenos Aries), which made for an interesting counter point to events with Elsa and Sam.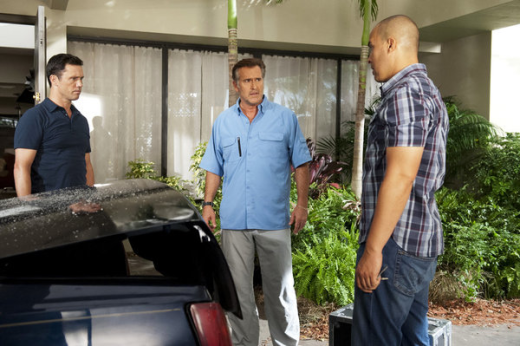 First you had Sam leaving Elsa crying in a parking lot. Thankfully Sam went to see Elsa and they were ok. Actually, more than ok, as she said that Sam needed to not abandon his best friend. Again, there was still no mention of her coming with sadly. I'm really rooting for Sam and Elsa, they are so cute together and Sam is clearly in love with the woman. 

Then you had Madeline, who I will freely admit was in a bigger pickle, but no other options were discussed before inviting her along. At least it's warm in Buenos Aires, so she won't be disappointed. Of course, a careful observer might notice that Michael is still not out of Miami. 

Then again, we still have one more week before the season finale; there could be every chance that Sam asks Elsa to join them before they leave after seeing Madeline coming along. 

So, anyone want to take a guess on what the season finale is going to involve in two weeks? 

Here is my guess: The whole gang is going to escape by the skin of their teeth right at the end of the episode with Riley just close enough behind to watch as their boat, plane, dog-sled, (whatever) pulls away, leaving her fuming and us planning.  

What do you think? Am I on to something? How do you think the finale is going to shake out?

Jim G. is a TV Fanatic Staff Writer. Follow him on Twitter.

Tags: Burn Notice, Reviews
Want more Burn Notice?
Sign up for our daily newsletter and receive the latest tv news delivered to your inbox for free!
More From TV Fanatic
Jane and Maura get drawn into the world of rare books and coded confessions when a book seller hiding a secret is murdered on Rizzoli & Isles.
On Perception, Daniel and Kate investigate an art heist. Also, Daniel must make a decision about his love life.
Things on Pretty Little Liars looked pretty darn bleak this week as Hanna's friends started to get sick of her but Zack couldn't get enough. Read the review for more insight into the latest installment!
Evan, Paige and Bob confront Russel about his rug theft, while Divya and Jeremiah treat a woman desiring to be a mom. But were those all the surprises the Hamptons had to offer? Read our review of "I Didn't See That Coming" now!
---