Deception Review: Who Killed Vivian Bowers?
by Nick McHatton at .
Because Deception is invariably going to be compared to ABC's Revenge, let's get the comparisons out of the way quickly: both feature wealthy families and said families have secrets.
That's it.
Well, there is one more similarity, Deception will live and die by the quality of its mystery plot, and, aside from a few slower parts, there's plenty to enjoy from the pilot as Joanna begins piecing together Vivian's death.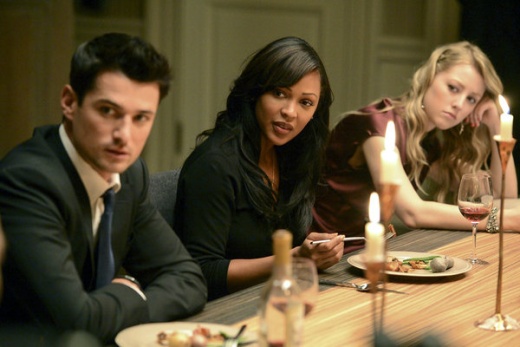 The aspect I found most compelling about the mystery, and the way it's being set up, is the sheer competition, not just between the FBI and the (maybe) unknowing Bowers, but amongst everyone. Every single character has some kind of stake, some kind of secret they want to keep hidden, and they have no fear or hesitation about doing what needs to be done to keep things within the status quo.

So, while the members look like typical rich folks from the outside, on the inside they are eating each other alive and tearing each other apart at the seems.

The deeper Joanna spends silently watching them, the more this rings true. Robert is far more interested in the coffers of Bowers Pharmaceuticals, and Vivian was hot on his heels of whistleblowing its cancer drug. His new wife, Sofia, is far too busy cleaning up the messes of her new family, sucking down more wine than those on Cougar Town, and fiercely protecting her faux daughter Mia.

Joanna potentially rekindling her relationship with Julian seems like a conflict of interest, as Julian's three-studded ring sinking to the bottom of the lake is the main clue in Vivian's murder. Yet, even with all of that, the chemistry between them is fun and playful in a somber and pensive show.

However, Deception still has its flaws. Mia being Vivian's daughter became increasingly obvious long before the reveal, bringing up the biggest problem in the show: pacing. There's a lot of background and foundations to build in the first episode, but many things could have been trimmed or left out all together in favor of the stronger aspects.

Joanna's interactions with Remy could have been shortened considerably - as his most vital piece of information was Vivian's whistleblowing - in favor of giving the main cast more time to begin sharpening their characters. The same can be said for Will. While his character is entertaining, and his chemistry is with Joanna is also fun and loving... I don't need to know about the Costco rib eye.

Deception has a lot of big, soapy primetime steps to follow in, and with a little scrubbing it could be a fun and exciting one. The pilot just didn't come out swinging the way it could have, but hopefully the next 10 episodes have a better round.

Nick McHatton is a TV Fanatic Staff Writer. Follow him on Twitter.

Tags: Deception, Reviews
From Around the Web