The Good Wife Review: Roll in the Campaign Bus
by Carla Day at .
Lockhart/Gardner's troubles were put on the sideline this week, providing a refreshing break from the firm's never-ending turmoil.
Instead, Elsbeth Tascioni (Carrie Preston) sought the lawyers' help with her problems in "Je Ne Sais What?" Whenever Elsbeth shows up, there's a lightness added to the hour due to her unintentionally humorous demeanor, thought process and speaking style.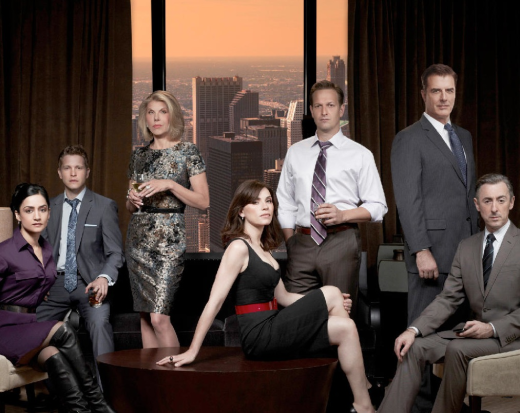 With performance-enhancing drugs running rampant in sports, Anna's positive doping test of an unidentified source was a timely situation for The Good Wife to address. In Anna's case, instead of a sponsor wanting to protect their endorsement, hers wanted to dump her to save money. And they weren't against using the court system's red tape to inhibit Elsbeth from representing her client.

As horrible as it sounds, that is exactly a move that Lockhart/Gardner would make if it would help them win their case. From watching The Good Wife, Suits and other legal shows, court victories are not always about getting justice, but about having the better lawyer. The ones that make the right moves, manipulate facts in their favor and don't miss anything are the ones that more often than not get the win for their client.

Elsbeth's imprisonment in Skokie, not getting bonded out, psych evaluation, court hearing in Chicago about constitutionality and then almost NOT getting bonded out again was a ridiculous use of the legal system. What a waste of money! In the end, the judge agreed and allowed her to be bonded out rather than sending her back to Skokie. For Anna, it was a blessing, because Elsbeth had a final play to prevent her suspension.

I hope that Anna's hearing was not a realistic representation of what happens. What a joke! French and English are the two official languages of the Olympics, but would a hearing held in the United States automatically be conducted in French? That seems unlikely, though it did create unique situations, so in that regard it worked. While Will didn't know French, it was a smart move bringing in Diane to assist on the case.

Her move to call out the panel for their comments in French was brilliant. It not only added credence to their case, but the men seemed to be impressed by her as well. In many ways, the hearing was a joke. The panel made the rules as they went along and arbitrarily followed them. That dragged the hearing out, but it also was what ultimately won the case for Anna. The faulty handling of the test was initially disregarded, but Elsbeth was able to use the messed up politics of the system to their advantage. Anna ended up getting her suspension overturned so she could run in the next race.

The incomplete science of the testing is problematic though and is worth noting. In Anna's case, her blood test was questioned, not because she was doping, but because she was pregnant. That's a huge flaw.  Of course, she could have revealed the pregnancy, showed her medical records and the situation would have been dropped, but that created a dilemma for her. She valued her privacy over that matter over her career and money, which demonstrated her strength.

As manipulative as Will and Diane can be at times, they showed their limits when they decided not to betray their clients secret even to win the case. If Elsbeth didn't come through with the answer in the end, I wonder if they would have held strong on that or if they would have pushed Anna to reveal the truth?

Elsewhere, Peter was having trouble with his campaign which wasn't helped by Eli and Jordan pushing opposing strategies to deal with it. I don't really care much for Peter's campaign. The troubles seem contrived and win or lose... who cares? I prefer when the show sticks with the firm's legal cases and stays far away from Chicago politics. In fact, I'd be okay if Peter disappeared entirely or only showed up for family events.

That preference has nothing to do with Alicia and Peter's roll in the hay campaign bus. However, their relationship is beyond confusing. Alicia had a quickie with him in the bathroom at Thanksgiving because she was upset at her mother and now on the bus? There's no indication that they are working on rebuilding their marriage, so why are they having sex?

Is it about satisfying needs without "cheating?" Given Peter's campaign and the rumors of indiscretions, it would make sense that Alicia wouldn't want to risk a relationship with someone else. Since it has happened twice now, they really need to talk with one another if they are going to continue in any way.

Of course, Peter isn't going anywhere. That's just wishful thinking. And, it doesn't look like Elsbeth will be leaving anytime soon either. Out of all the lawyers, Eli could select to represent him last week, I expected it to be Elsbeth. She's formidable. Odd, but formidable. Her presence could give new life and interest to the campaign storyline.

Were you glad the firm's troubles were sidelined for a week? Do you enjoy the campaign storylines? Big question: What do you make of Alicia and Peter's non-relationship relationship?

Carla Day is a staff writer for TV Fanatic. Follow her on Twitter and on Google+.

Tags: The Good Wife, Reviews
From Around the Web