30 Rock Finale Review: Dare to be Different
by Dan Forcella at .
As a college kid in the mid-2000s, who knew little else other than broadcast television, 24 and Lost got me hooked on watching thrilling and thought provoking dramas. The Office and 30 Rock, meanwhile, were the cornerstones in building my love for the television comedy.
It will likely go down in history as one of the great comedies of its time, thanks to plenty of critical acclaim and shelves full of Emmys, but for me 30 Rock will likely be remembered simply as the series that dared to be different. And one that made it possible for shows like Community to even exist.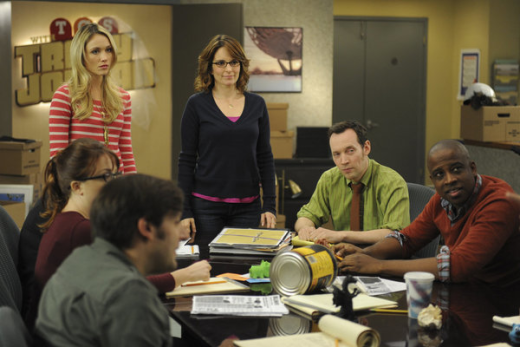 In a time when most every comedy on television resembled a CBS sitcom, 30 Rock was bright and shiny and weird when it first aired in 2006. It was strange, sure, but thanks to stellar performances by Alec Baldwin, Tracy Morgan and the gang, and its ability to cram more jokes into 22 minutes than any other show, 30 Rock left its mark.

While it continued to grow, leaving us keeled over time and time again for its first three seasons, there was a point where 30 Rock really lost its consistency. Somewhere around season four, the show seemed to produce more and more duds that lost 30 Rock its elite status.

Some characters' shticks started to be less and less hilarious, as will happen as they begin to run out of new jokes for them, some - like Kenneth and even Liz - just became annoying, and finally some - specifically Hazel Wassername - should have never been invented.

Still, through its final few seasons, 30 Rock continued to produce absolute gems now and again, forcing us to watch consistently, waiting every third episode or so for another classic from the TGS crew. Whether it was season five's "Everything Sunny All the Time Always," the live show highlighted by Jon Hamm in black face last year, or even this season's "Mazel Tov, Dummies," all-time classics could come at any time, and that's what I will remember about 30 Rock.

The series finale, "Hogcock; Last Lunch," left a lot to be desired. After the show went to commercial through 45 minutes of the hour, I thought to myself: how come they didn't put any jokes in this finale?

I also thought, why would you introduce that random technique of putting bubbles on the screen for internet conversations at this point  It was more distracting than anything else. 

Then there was the thought, why are you re-using a story line from a previous episode without making fun of the fact that you're re-using a story line from a previous episode? Lutz being the picker was done before, and frankly, it was done better the last time. This felt lazy.

They tried to do some emotional send offs, but 30 Rock was never a show that needed that sentiment. It was a wacky comedy that barraged the audience with joke, unlike shows like The Office or Parks and Recreation, it was set in an environment that never felt realistic. That was okay, because it made us laugh. Having said that, nothing in the finale touched me as much as Liz's encounter with mini-Jenna and mini-Tracy from the end of last week's episode.

And while the first 45-50 minutes left me completely unsatisfied with this as an ending to the series, the final couple of minutes were so great that I'm willing to forgive it all.

Pete, who surprisingly carried the episode with his infatuation for faking his own death, was found by his wife in a mustache, Liz was making Grizz's obvious sitcom with the dog, Jenna was making road runner noises and flashing, and Tracy's dad finally came back from getting cigarettes! There were more laughs in that 50 seconds than in the first 50 minutes of the episode.

Then there was the final moment, in which it was revealed that the show 30 Rock may or may not have been an idea created by Liz's great granddaughter and the still never-aging Kenneth Parcell sometime way in the future. As flying cars zoomed by Ken's window, and a goofy grin graced his face, I thought, "yup, this is 30 Rock."

It was at its best when it was as weird and strange as possible, and that's what it was in its final moments. Hopefully, that's how we remember the show. All 30 Rock ever had to do was make us laugh, and most of the time, it was great at it.

What did you all think of the finale? Did it live up to your hopes and dreams? What about 30 Rock overall? Where will it go down on your list of best comedies of this era or all-time?

Dan Forcella is a TV Fanatic Staff Writer. Follow him on Twitter.

Tags: 30 Rock, Reviews
From Around the Web