After last week's ho hum performance by guest star Drea de Matteo, I was looking for something special out of Seth Rogen on this week's episode of The Mindy Project.
I'm not sure anyone would mistake him for a member of Seal Team 6, but the Army story line was a means to an end and he played the part well.
"The One That Got Away" gave Mindy a taste of the lives she so loves to watch in her romantic comedy's, if only for one night. Extraordinary circumstances kept the fling from progressing into anything more serious, but perhaps Mindy will get another shot in 18 months when Sam returns.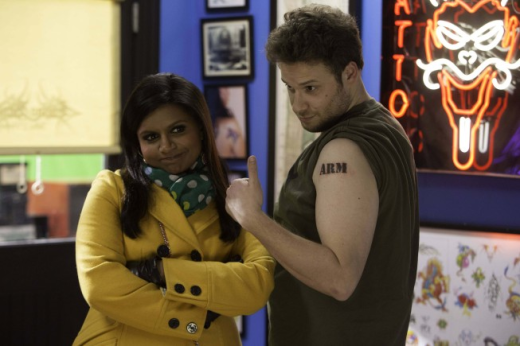 It is always awkward getting together with someone you haven't seen in years. What do you talk about? Sam hilariously broke the tension by asking about the last big issue he could remember Mindy facing all those years ago: her period.

Mindy always has these elaborate scenes in her head about what makes a romantic date. Like going to the Central Park Zoo and having a giraffe bend down and steal her ice cream. Hopefully she realized how something as mundane as shopping for shampoo, like she did with Sam, can be just as special so long as you are with the right person. 

Still reeling from his breakup with "Eye Patch," Danny agreed to be a sperm donor for a couple. He was convinced he would never have kids of his own. But he did go back on his word in a sense, as he enlisted the help of a very willing Mindy to list his faults to the hopeful couple. I don't think anyone will question his integrity too much, though, certainly not after he went out of his way to get one of our nation's bravest a sandwich. "Not a wrap, but an actual sandwich!" 

Along the way tonight, there were some great moments that added to the episode's success. First was Jeremy soliciting sympathy for being catfished before Catfish. Then there was Mindy's comment about Self Checkout and what a scam the self scan line is. Mindy preferring to take her MCAT again instead of having to watch Caddyshack may have cost her a strike in my book, but she evened the count when she called out Danny for being too scared to watch Game of Thrones. 

Once again the episode ended with Mindy and Danny alone in the doctor's lounge. I liked the chemistry between Mindy and Sam, but it is inevitable she will end up with Danny.

As he read her the vending machine, he made it clear that he has a pretty good grasp on her likes and dislikes. He just needs to get himself back together again before he will be able to love anyone else. As for Mindy, she would do well to focus on writing her own script for love, instead of trying to recreate bits and pieces of others. 

Tags: Reviews, The Mindy Project