It's you and me. It's always been you and me. We belong to each other.
That's not the typical dialogue that a teen boy would say to  his mother but, thankfully, Bates Motel, is no typical series - and Norman and Norma Bates do not comprise your typical family.
While you might easily label the ambitious A&E series - created by Lost alum Carlton Cuse and Parenthood writer Kerry Ehrin - a prequel to Alfred Hitchcock's 1960 film, Psycho, the producers have said to look at this as 'inspired by' rather than an 'homage' to the famous film and that's evident from the first intriguing episode, "First You Dream, Then You Die."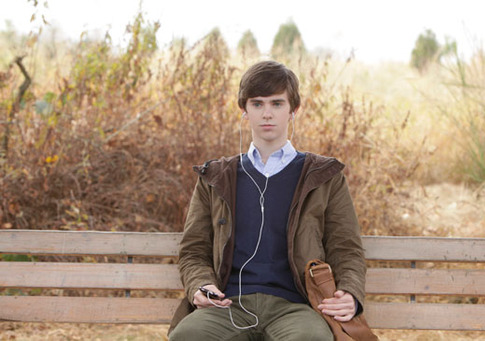 For one, the series is contemporary, even though we are meeting Norman Bates (Freddie Highmore), as a high school teen. And his mother, Norma Bates (Vera Farmiga), may be a tad overbearing in her protectiveness of her son, but she's also a mother that's just trying to do her best in extraordinary circumstances and setting.

After being widowed early in the pilot, Norma and Norman hit the road and end up buying a motel (yes, that motel) in the kind of small town where you can't help but think of Twin Peaks. In this case, it's a wise move to make the town a character in itself and it proves that the Bates are not the only oddballs on this series.

No question that the anchor of the series is the close (too close?) relationship between Norma and Norman, who quickly prove to be a good team when things go awry, as they frequently do. And while we may know where Norman ends up from the infamous film, it's obvious that part of the journey of the show will be whether he can (or really wants to) build an identity separate from his mother, who may also never fully allow it.

But when he sits on the floor of his bedroom asking nobody "What's wrong with me?" it's the same question you'll be asking... and sticking around to find out.

Similar to Lost, the line between good and not-so-good is blurry; and that includes the varied levels of creepiness that we see in both the occasional homicide or when Norman tries unsuccessfully to look away as his mother frequently changes clothes in front of him. And keep an eye out for the tension that arises when estranged son Dylan (Max Thieriot) shows up asking questions about what really happened in the death of he and Norman's father.

The good news is that Highmore and Farmiga are game for everything and sell every false smile, blank stare and horrific scream that comes their way. Highmore, especially, while not doing an Anthony Perkins impersonation, embodies a similar sense of innocence with intense fierceness just a breath away. And with Cuse and Ehrin at the creative helm, the storytelling is solid and just intriguing enough to keep you wanting more.

More good news is that with Cuse and Ehrin involved, the show seems to effortlessly bring us characters that we care about and maybe fall in love. Bates Motel has a lot of places to go and you'd be wise to check in and see where it goes.

One final note is that you don't have to be an expert or fan of Hitchcock's masterful film to enjoy the series. But fans of Psycho will get the added enjoyment of references big (the hotel itself) and small (taxidermy references) along the way.

What did you think, TV Fanatics? Grade the Bates Motel premiere now:

Jim Halterman is the West Coast Editor of TV Fanatic and the owner of JimHalterman.com. Follow him on Twitter.

Tags: Reviews, Bates Motel