Deception led us down plenty of twists and turns in "I'll Start With the Hillbilly" but at least we finally learned who killed Vivian Bowers.
Robert Bowers.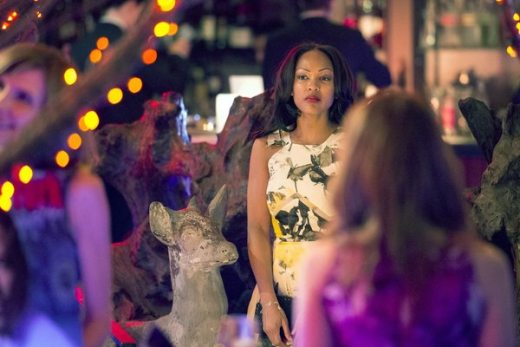 Deception tried to throw us off the trail by placing suspicion on Sofia, but there was never really any true question in these last few episodes Robert was Vivian's true murderer.
The only trouble now is trying to prove it. Robert has never said anything and only the flashbacks and evidence have only alluded to him killing Vivian.
With Deception Season 1's ratings what they are, it's not hard to imagine we'll never know how everything will shake out, how Robert evades the law and if Julian and Joanna will ultimately stay together.
This kind of season finale brings me to my biggest gripe about tonight's episode. The finale served as a great launching pad for a potential second season, and it certainly whet our anticipation for resolution and answers; but that kind of ending is a double-edged sword in today's television realities. Shows fail, shows aren't always given the fair push they deserve and shows sometimes aren't responded well to.
With all of that in mind, why would Deception want to end with so little closure?
Mia is finally beginning to find her new identity and role within a household of changed dynamics, with brothers becoming uncles and parents becoming grandparents, only to be kidnapped by Sofia's ever growing Wyatt problem. Instead of worrying about Will bringing her a diet soda, Sofia should really be focusing on making sure Wyatt's taken care of. Robert certainly has the experience necessary.
Haverstok is only growing more powerful and his confirmation as Attorney General is only a formality at this point. It's rather remarkable watching his transformation over the course of the season from distraction... to slime ball... ti shameless father... and, finally to a man focused on avenging the love of his life. He's a complete jerk, don't get me wrong, and he's hungry for power; but at least he's focusing on getting to the bottom of Robert's deception.
More Thoughts and Questions:
Edward saying good-bye to his wife was so hard to watch.
Johanna, thanks to Haverstock, is still keeping her secret from Julian. I guess that struggle will end up being the biggest roadblock in their relationship if another season is picked up.
What did Joanna's mother reveal to Julian?
Was anyone else thinking the dirty cop would be Robert's next victim?
Nick McHatton is a TV Fanatic Staff Writer. Follow him on Twitter.

Tags: Deception, Reviews
Want more Deception?
Sign up for our daily newsletter and receive the latest tv news delivered to your inbox for free!
From Around the Web
More From TV Fanatic
Duck Dynasty Season 6 Episode 5 was all about re-branding. Read on for our latest rundown.
On Graceland, the road to healing and closure is a long one. Some of our agents are on it, others are struggling.
On tonight's The Bridge, Sonya and Marco deal with the aftermath of saving Eva. With their lives in danger, how will they protect her?
On Suits, Jeff and Jessica try to fight off the SEC, while Mike struggles to make good on an investment, causing more rifts as he does it. Can Pearson Specter survive the onslaught?
---